The best way to meet Thai girls is to join a Thai dating site like Thai Cupid. It is the site I use the most when I am in Thailand to chat with local women and find dates.
If you are looking for Thai penpals or are planning a trip to Bangkok, Phuket, or elsewhere in Thailand, you'll want to do some groundwork to have a beautiful Thai woman to date as soon as you land; read on!
Here's my Thai dating guide that I put together during my 3-month stay in the country.
Recommended Thai Dating Sites

ThaiCupid
Most popular Thai dating site
Over 1.5 million registered members
Easy and free registration

Thai Match
Fastest-growing Thai dating app
Tinder-like app in Thailand
App is available on both Google and iOS store

Asian Match Mate
Best adult Asian dating site
Great for people looking for casual relationships
Part of the Finder Finder network
How we reviewed the Thai Dating Websites
Reviewing dating websites takes a lot of time and effort, which is why nobody does it thoroughly. However, it is the only way to find out if a particular online dating site is worth it or not.
We have spent a lot of time and money testing different Thai and other Asian online dating sites and apps over the last few years, so you don't have to. We can now tell you which site you can trust and which is a scam.
Let me walk you through our review process.
Dating Inspector Review Process:
We signed up for both the free version and any paid versions of the popular dating apps and websites in Thailand.
We browsed the sites for several weeks.
We communicated with many Thai women using all the messaging features.
We set up dozens of dates with women and met up with them while traveling in Thailand.
We rated our experiences against all the Thai dating apps we reviewed.
We got in contact with other users to gather some relevant feedback.
All these actions led to the following list of the ten best Thai dating sites to try:
So now, let's take a look at this Thai dating guide.
1# ThaiCupid – Best Thai Dating Site
Cupid Media has thankfully established its foot in Thailand. ThaiCupid is by far the most popular dating site in Thailand, with genuine profiles and many active users. The usual age filter of active members in the 18-36 age bracket will give you thousands of matches.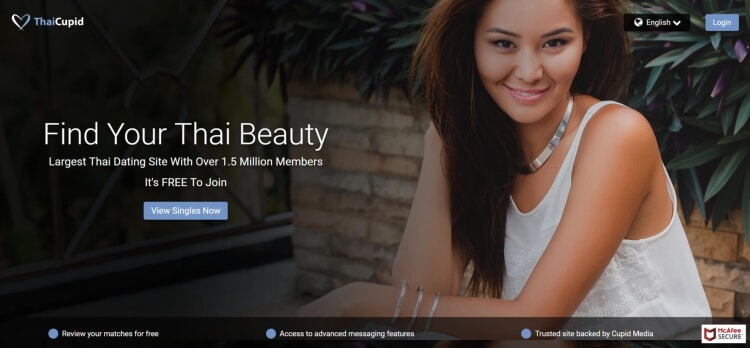 HIGHLIGHTS
Over 1.5 million members
Members are active and responsive
1-minute sign-up process
Chatroom available
Profile pictures visible for free
Free app on Google Play and App Store
The registration process is buttery smooth – an absolute requirement for a dating site. If you do not want to make your fingers work by keying in essential details, they also have a "Login with Facebook" option. Once logged in, you can get started by providing an essential bio – you can always come back to complete the rest of the profile.
You can choose from the following membership levels:
Standard – This is a free membership that allows you to search for users and express your interest in those that you find most attractive. If your love interest is a paid member, you can even exchange messages.
Gold – Gold members experience ad-free browsing. They can also communicate through instant messaging and video calls. Monthly plans start at $34.99 that progressively get cheaper as you opt for longer-term plans.
Platinum – Gold features + profile highlighting, advanced search criteria, and better matching algorithms. Starting just $4 above the Gold membership, the ability to interact over the video with your potential date is an option worth considering.
If you had some money and you want the maximum bang for it by spending on only one site, we would recommend the Gold membership.
2# ThaiMatch – best Site To Date in Thailand
ThaiMatch.com is a secure and reliable portal, making it ideal for meeting beautiful Thai women. It has members from 56 different countries, and the female-to-male ratio is 52:48. It is a great option for meeting Thai women in Bangkok, Pattaya, Chiang Mai, Phuket, and elsewhere in Thailand.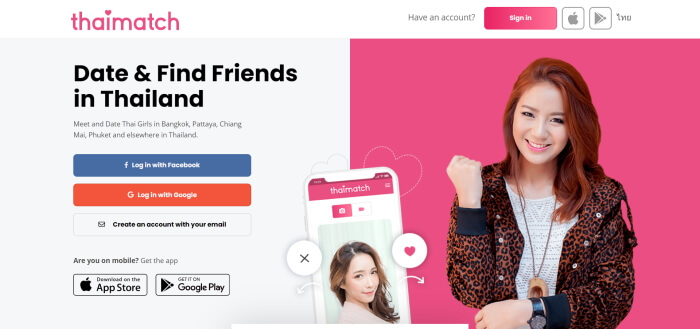 HIGHLIGHTS
Free registration
Over 550,000 registered and verified singles
Multiple membership options starting from $7.95 a month
Boost your profile to get more attention for $4.99
There is a Thai version of the website to interact with Thai girls who do not know English
A blog section with advice and tips for dating Thai girls
The website's intuitive, minimalistic interface is a breeze to use. Registration is free, and we recommend putting up as much information as you can to ensure you match with members who have similar tastes.
Once registered, you can start browsing the profiles of Thai singles. Some useful filters help you narrow down the list of profiles based on search criteria like location, hobbies, age, and other details. You can express your interest in the profiles you like, and if they like you back, you can start chatting.
There is an app for both iOS and Android users, loaded with a Tinder-like swipe feature to help you find potential matches even if you are on the go.
What's unique about ThaiMatch.com is that you have the option to communicate with other members for free:
Women can send an unrestricted number of messages without a charge.
Men can send one free message every 10 minutes.
If you want to remove this restriction, you can upgrade to a Premium subscription for $7.49 per month (1-year plan) or VIP for $13 per month for a 1-year plan.
Unrestricted use of free features such as search, match, and receiving messages makes it one of the best Thai dating apps in Thailand.
AsianMatchMate.com is easily one of the most popular dating sites in the Asian niche, with around eight million users from the region. It has been recognized as one of the best adult dating sites in Thailand for people interested in casual hookups, although the site facilitates long-term relationships as well.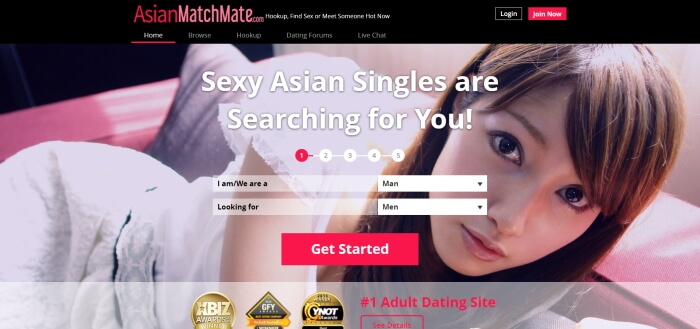 HIGHLIGHTS
Welcomes all relationship types, including gay and bisexual
Great for both casual as well as serious relationships
Multiple communication platforms, including private chat rooms and instant messaging
Blog pages that members can also contribute to
Serious privacy settings and security policies to protect you
Photo verification options
Whether you are looking for a Thai babe for a fun night out or you want something more serious, there's a match for you on this site. The website welcomes members from all backgrounds and sexual orientations, including couples and groups.
The Personality Type questionnaire is useful for finding compatible matches. Members can share pretty much anything they want on their profile, ranging from their hopes and dreams to their sexual fantasies. Advanced search filters like browsing by proximity, age, or gender help narrow down your search among millions of profiles.
Memberships start from $14.95/month when billed annually. You can also enhance your membership by paying extra for services like Profile Highlights and Standard Contacts.
4# Asian Dating – Best Asian Dating Site
Another good Thailand dating site is AsianDating.com, owned by the global giant Cupid Media network. The site has over 2.5 million registered users and has been operational for nearly two decades. There are many successful love stories to take inspiration from!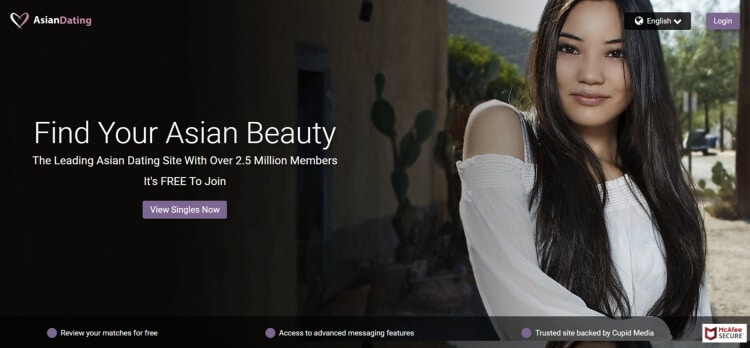 HIGHLIGHTS
2.5 million worldwide users
A lot of female members
Free to register
Sending interests is free
Verification badge for the verified profile
App available only for Android
Just like other websites of the network, AsianDating.com is reasonably easy to register on and does not ask for your credit card details to get started. You can also use your Facebook account to log in. The profile creation part is similar to other websites, where you let other users know about your preferences and the traits you are looking for in your Thai date.
You can browse through the suggested profiles one user at a time. Though time-consuming, it lets you move at your own pace. Most users prefer using the search option, though, where you can set your conditions (age, location, education, smoking and drinking habits, ethnicity, religion, etc.). It saves you time and is a quick way to filter out the most relevant profiles.
This is the ideal Thai dating service to use if you are looking for something more long-term and serious. The site will connect you with some of the most beautiful women from Thailand, although it has members from other Asian countries like China, the Philippines, and Taiwan as well.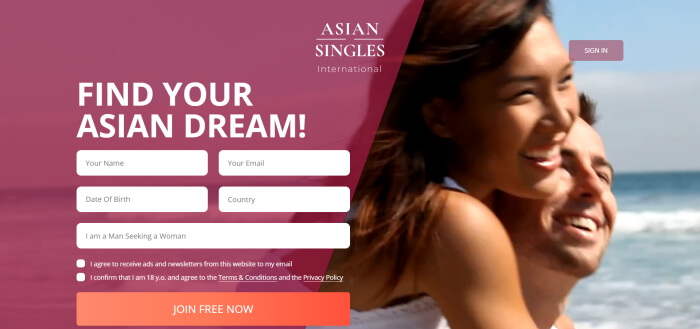 HIGHLIGHTS
The platform verifies all users to guarantee the safety of all members
There are numerous other safety policies in place, including message privacy
Live chat and video call services for deeper connections
Gift and flower delivery services to keep the romance alive
Phone call introduction feature to help break the ice
Great customer care service
The services AsianSingles2Day.com offers are pretty standard in this day and age: instant chat, sending and translating letters, virtual gifts, sending real presents, and more. The "Date a Lady" service allows you to set up a private date with your love interest, organized and set up by the company's customer service team.
Like other similar sites, AsianSingles2Day.com also uses automated messages to get its members to upgrade their accounts. While some of the profiles are clearly fake, many are genuine, with real people behind them.
The website uses a credit system, and credits are sold in packages of 20 to 1000. The bigger the order, the cheaper the cost – prices range from $15 ($0.75 per credit) to $379 ($0.38 per credit).
NaughtyThai.com is a part of the Together Network, which has produced several other successful niche dating apps. It has thousands of members from all the large cities, including Bangkok women, Pattaya ladies, and Phuket girls.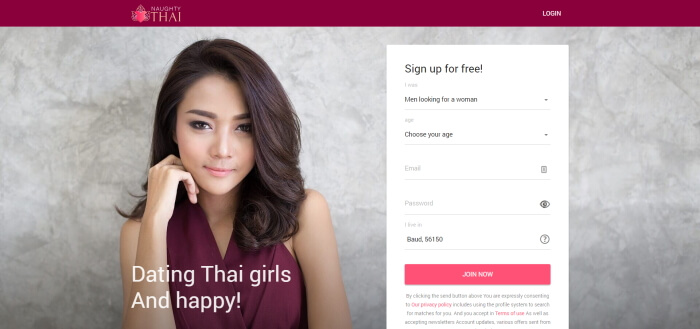 HIGHLIGHTS
Search function to narrow down options based on your preferences
Online activity notification so you know who is currently active
A match feed function that suggests potential matches for you
A notification bar with users who have browsed your profile
Wink feature to help break the ice by showing interest
Safety policy for your protection
This niche site offers international singles access to a large pool of Thai singles. All you have to do is register and set up your profile, and you can start your journey to finding love. As the name suggests, the site is geared towards those looking for casual fun and not long-term relationships.
Be warned, though, that there are lots of automated messages that pop up after you sign up and each time you log on to the site. The messages are from bots, not actual users, so take your time browsing the site before upgrading your membership.
Thai Friendly has over a million profiles, with more than a thousand new ones being created daily. And that's how it separates itself from the rest – it is a very popular Thai dating app.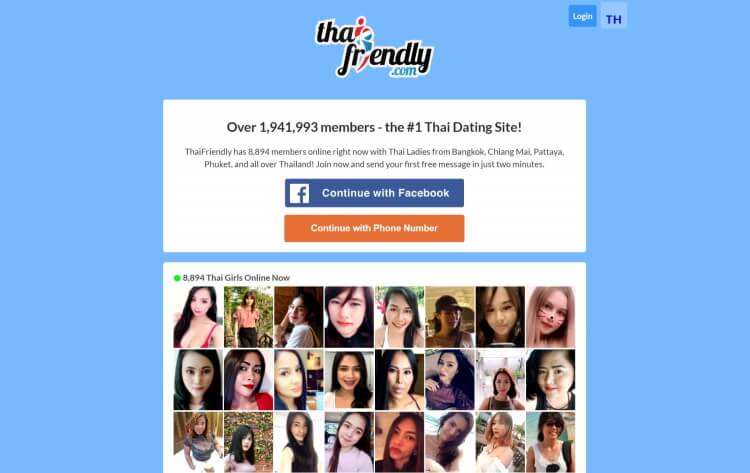 HIGHLIGHTS
Over one million members
Very easy registration
Liking another member is free
Chatroom available
Profile pictures visible for free
App available on Google Play and the App Store
You will find many university girls who are living away from their cities and are looking to have some fun. The site might not be ideal for you if you are looking to find a mature woman to settle down with, though.
The website allows free registration and does not pester you for a paid membership. Free membership can get the job done if you have the patience to communicate over longer letters rather than instant messaging.
The paid premium subscription starts at $24.95 a month and gets progressively cheaper. It is a good deal as you get the live chat feature.
Find Mate is an app-based dating platform in Asia. It is very popular, especially in the Philippines, Thailand, and Vietnam, and lets you test the waters without actually logging in. Though the user base of about 300,000 is not the largest, its popularity makes it worth a try.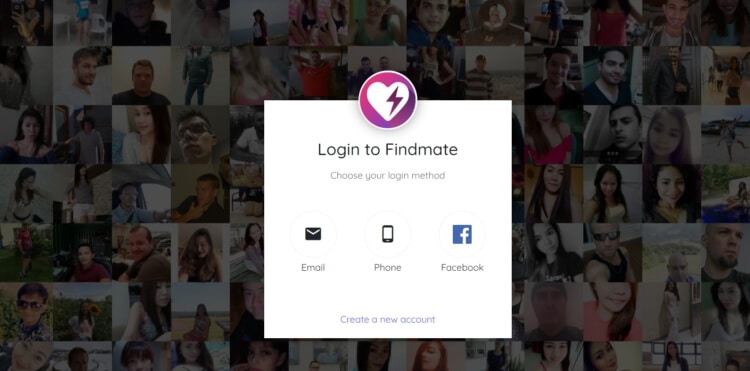 HIGHLIGHTS
Very trendy in Asia
Over 300,000 profiles
Free and easy sign-up
Get free premium membership when you refer friends
Signing up is simple and free. The app has a freemium model, where you cannot exchange messages without an upgrade. Interestingly, there is another way to upgrade other than the $24.95 monthly fee. Just refer three of your friends to the site, and you get free membership.
9# Asian Date
Asian Date is another matchmaking platform with a vast number of Thai women. Signing up is smooth, as they do not need you to type out your bio before you can take a look around the site. Keeping up with the popular trend, they have enabled Google-based login to let you in quickly too. Uniquely enough, the site only allows "men seeking women" to sign up!
HIGHLIGHTS
A large Asian member base
2-minute registration process
Free search feature
Profiles quite detailed
High-quality profiles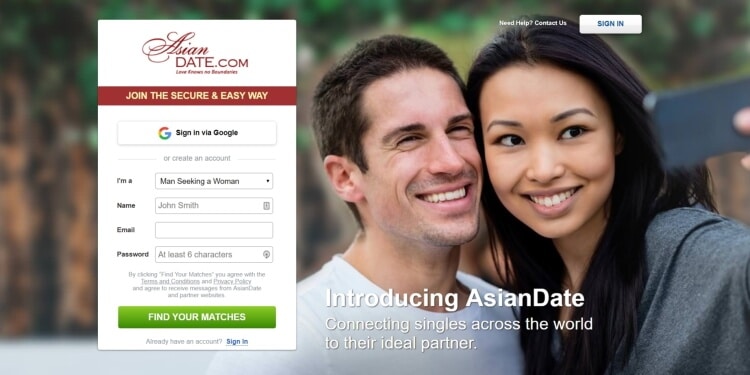 Once you log in, you will see drop-dead gorgeous women (better looking than those on other competing websites) and a flurry of pop-up chat messages!
Before your testosterone levels hit the skies, be informed that these precise factors have led some to believe that it is a fake site full of scam profiles. Some people suspect that the messages you get are sent by bots (and some have tested this by listing absurd info on their bio, and they still drew interest). That said, there are definitely real profiles in the mix as well.
Just exercise caution when contacting someone through the site, and always make decisions with your head, not your heart!
10# Date in Asia
DateinAsia.com is a free Thai dating site with a large user base, probably the biggest in Thailand.
HIGHLIGHTS
100% free to use
Phone verification
Lots of inactive profiles
Chatroom available
No mobile app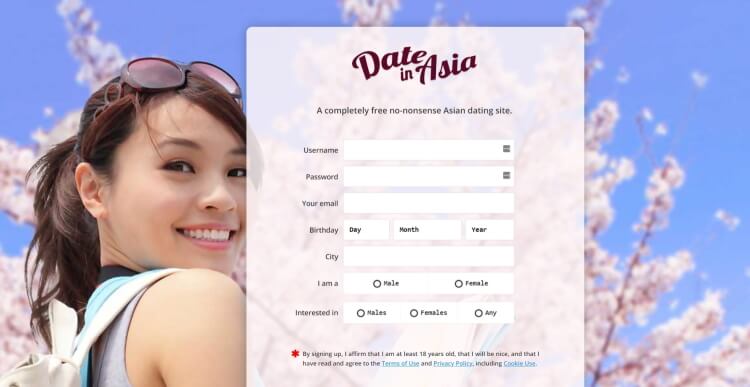 The user interface is relatively simple, and signing up is straightforward. It also has a mobile app that keeps you connected on the move. However, given the free nature of the website, you will have to do extra work to filter out suitable profiles. Another thing to remember is that your interests may not get reciprocated soon enough, and it can sometimes be frustrating.
The free nature of this website brings a lot of inherent negatives with it as well:
Despite there being over a million registered users, you will find many inactive profiles.
Be careful of the con artists and ladyboys, especially if they sound too easy to get. You might be in for a rude shock as there are many looking to make some easy money.
Probably the most unique feature of the site is that there is nothing unique about it – it just gives you a platform to find a date.
Things You Need To Know Before Dating a Thai Woman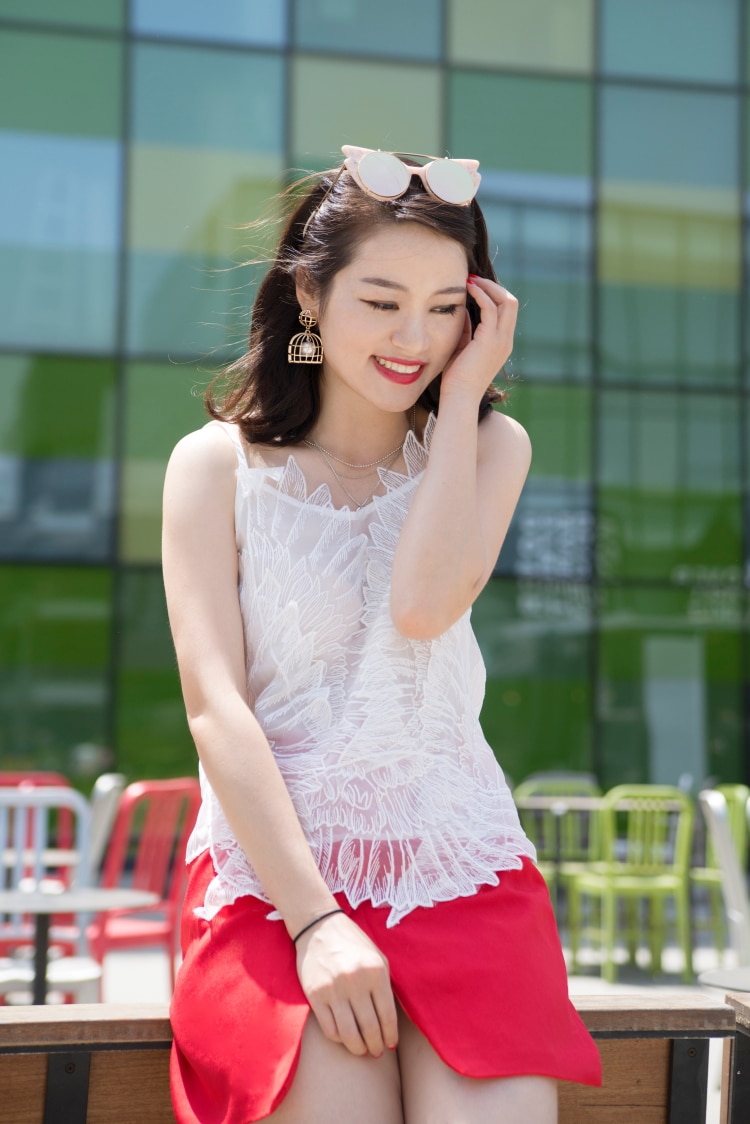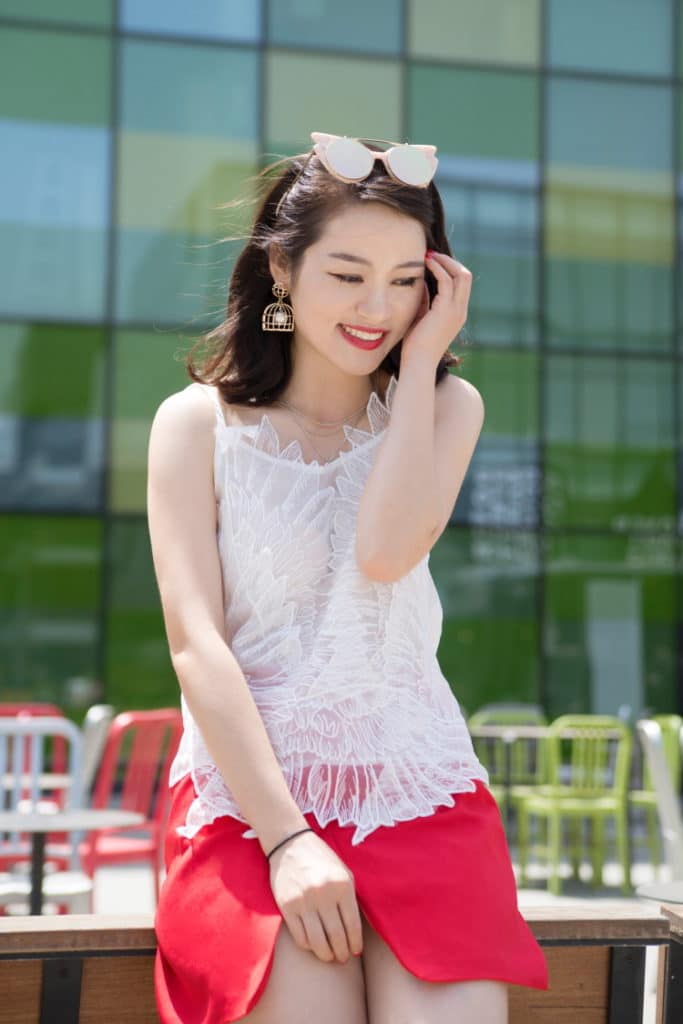 Thai people are very different compared to European and American natives, and the same goes even for Thai women. You are set to be disappointed if you try approaching them with a generic game plan. It is best to learn about their personality, appearance, and culture before meeting them.
Here is a primer on Thai girls:
Appearance
Looks matter, especially when you are looking for short-term company on a fun trip. And Thailand has some distinctively beautiful girls.
Their features are unique to the Asian continent, especially the southeastern part. Even with the same baseline features, Thai girls have various skin and body types.
Thai women are known to be conscious of maintaining their skin, hair, and overall health. You would struggle to find overweight or plump girls in Thailand, thanks to a lot of boiled food and little to no McDonald's. They would go to any lengths to make sure their hair and skin are perfect – the primary reason you see many of them as shampoo models.
Their appearance is nicely rounded up with a charismatic yet mysterious smile. That makes the ladies the perfect package for men looking for beautiful women with class.
Nature
Thailand is called the "Land of Smiles." People are usually polite, and girls are even more so. They are raised to be compassionate and considerate. Even walking around the house should be a quiet affair, with minimal distraction to the rest of the family. You would find them very easy to approach.
They are also shy by nature, though. Therefore, don't form a wrong impression if you try talking to a Thai girl and she doesn't respond in the friendliest manner.
Relationship Dynamics
In a relationship, they would happily take on the homemaker's role. If she is from a humble background, you will have to be the family's breadwinner. They would find it difficult to travel with you back to your country and adjust to a new culture. Social media and instant communication are changing all that, though.
Family Values
Thai people are raised in very closely-knit families with a lot of affection and respect. You won't find the ladies assertive. It is common to see three or even four generations staying in the same home with limited space without complaining.
As they grow older, they step up to take care of the elderly – both their education system and religion teach this sense of gratitude. Children and elders are celebrated alike.
Thai women may appear to be very soft and submissive. But when it comes to dating or marriage, they would set up the highest parameters of loyalty and values in choosing a partner.
Introducing a man to the family is a big step for them, with an unstated intent of marriage. They would do everything possible to keep their man happy and expect the same. If you are loyal, polite, and respectful, you will have the happiest relationship.
The Thai Stereotypes
There are many stereotypes associated with the Thai people. Most of them have carried on for decades. They emanate from the pre-internet era when the world wasn't as connected. Also, Chinese whispers syndrome ruled the roost when talking about unseen, faraway lands such as Thailand.
In this section, we bust a few stereotypes so that you get to enjoy the country from an unbiased perspective.
Thais are not poor – Thailand is a developing country, and many of its economic indicators testify to it. Automobiles, banking, electronics, and tourism are the major GDP contributors.
People do not ride elephants to commute – Thai people are very ambitious, and they work hard to achieve their goals. The explosion of its middle class and the congestion of city roads by malls and cars is a testimony that it is just like any other developing country.
Bangkok is NOT only about sex tourism – Bangkok used to be Thailand's version of Vegas in the past, but that has changed. It is a global city with the corporate presence of multi-national organizations and a happening nightlife.
There is more to Ladyboys than sex – Ladyboys (kathoyes) used to work in sex and associated industries a few decades ago. Now, not only the poor but those from middle-class families also happily transform themselves into ladyboys, get conventional degrees, and form a part of the workforce.
All Thai food is not spicy – Bangkok and Pattaya, the most famous tourist attractions, offer cuisines from all over the world. Italian and Japanese restaurants are a hit. Even authentic Thai cuisine has non-spicy options such as soups, Pad Thai (fried noodles), Khao Pad, etc.
You can eat without chopsticks – Asians do like to have their noodles with chopsticks, and that is just about that in Thailand. Usual cutlery items like spoons and forks are abundantly used.
Not all brands are fake – If you are street-shopping and find Steven Madden or Chanel stuff selling by the dozens on footpaths, they are fake. However, if you want genuine stuff, you can always head out to the upmarket malls and brand stores.
Don't bargain for everything – Asking lod dai mai (May I have a discount) is common but do not haggle with everyone. Negotiating that replica Rolex for a tenth of the quoted price, which is already very cheap, is not going to help!
Frequently Asked Questions
💡 What is the best dating app in Thailand?
There are many good dating sites and apps in Thailand, but perhaps the best one is ThaiCupid. It has over a million users, offers lots of unique services, and has put a lot of effort into developing its safety features.
💡 Is Thai Cupid legit?
ThaiCupid is part of the Cupid Media network. Launched in 2002, ThaiCupid is committed to connecting Thai singles with people from around the world. It is one of the most legitimate dating sites in Thailand at the moment.
💡 How to meet new people from Thailand?
You should register yourself on a dating site with a large Thai community, like ThaiCupid.com, and start chatting with people you find interesting. There are over 1 million singles from Thailand and around the world on this site, all looking for love and companionship.
Are You Ready To Date Thai Women?
Thailand has kept up with the rest of the world when it comes to technology adoption. It means you can start with your groundwork weeks before landing there. Start with Thai Cupid, as it is the most popular and definitely the best Thai dating site.
The online dating scene has grown exponentially over the years and continues to explode. That is both good and bad, as you have more choices, but you need to do some research to filter out the best dating apps and sites so that your efforts don't go waste (or worse, land you in trouble!).
Happy dating!