If you have never tried cross-culture dating, then it is something you should definitely consider.
I can tell you that it's a great learning experience and a whole lot of fun too!
And who knows, maybe the person you have been looking for so long is on a whole other continent.
Here is a comprehensive Victoria Hearts review to see whether it is worth the hype.
Who is the victoriaHearts International Dating site for?
Victoria Hearts is mostly for single men from Western countries looking for a relationship with younger, beautiful women. It's also for anyone trying to find a soulmate on the other side of the pond.

So, if you are looking for a quick hookup or hate long-distance relationships, we'd suggest you pass on this one.
Getting Started On Victoria Hearts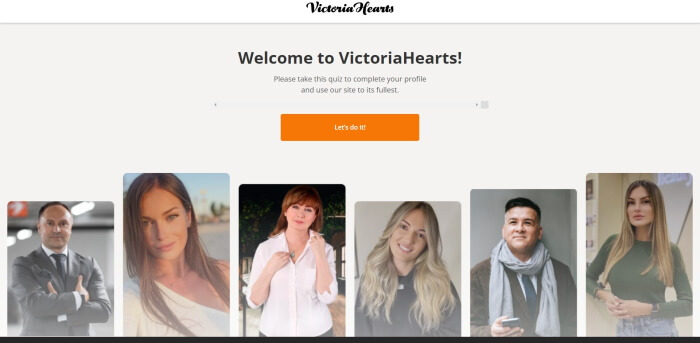 How To Register
One thing to appreciate about VictoriaHearts is how easy it is to get started on your journey. And registration is free!
Here's how to sign up:
Step 1- Launch the dating site
It runs as an online website you can launch on any device. Use the link VictoriaHearts.com for direct access to the site's home page.
Step 2- Take the Quiz and Fill in your details
Before you get searching, you need to set up your account and get it verified.
This is a pretty simple process where you get to fill in details, including your name, e-mail address, gender, age, and whether you are looking to date men or women on the dating website.
Step 3- Create your profile
Once your account has been verified and approved, the next step is personalizing your profile.
You can upload as many photographs as you think will get the attention of the women you might be interested in.
You should also include a short text description of yourself.
Step 4- Answer a questionnaire
The last step to getting started on Victoria Hearts is answering a questionnaire they will present on your page. This allows them to collect data on your interests and preferences. You will also answer questions about things like your expectations and intentions while on the site.
Once you are done with all these steps, you are good to go.

Ukraine Date
Focuses on Ukraine dating
Lots of profiles of gorgeous women from Ukraine
Safe and trusted website for dating Ukrainian girls
How To Use The Service
Using the service is just as easy as the whole registration process. It involves:
Setting your search filter
You access this using the "Find me ladies" button.
The dating site will allow you to set preferences such as:
country and city of origin
religion
level of education
level of English
number of children
eye color
drinking
age
This is much more detailed than what you will get with many other similar services.
They use the information you give on your extended search page to link you up with the most suitable matches. This will definitely make your work a lot easier than going through the thousands of profiles they have on there.
Browse profiles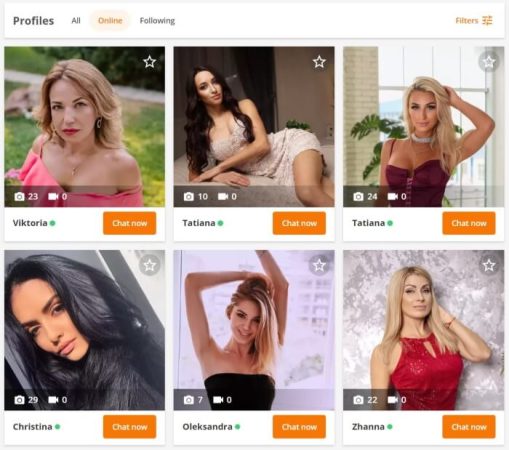 Once you have specified your preferences, you will be presented with a bunch of profiles. This is where you start working hard. The dating site has a lot of women for you to choose from, so you better believe this will be quite the uphill task. The important thing is to know what you want in a woman (and in a relationship).
Find matches
The website allows you to "like" a profile if you are interested in the person. If they like you back, you will be matched and can start messaging back and forth. They also facilitate meet-up requests, contact requests, and gift deliveries.
However, unlike other services, you do not need to match to send messages to women you like.
Is there a mobile app?
Currently, the Victoria Hearts team hasn't gone public with a mobile application, but they do have a mobile-friendly website compatible with all mobile phones. Fortunately, there is not much difference between the mobile and the desktop versions.

When viewing profiles, you can see the user's profile photo, basic information, and the rest of their uploaded photos and videos.

In the upper left corner of your profile page is a "Notifications" icon, while in the opposite corner, you will find an icon leading to your "Statistics" page.

You can find the "Special features" at the bottom of the browser.

Victoria Hearts' mobile version is perfect for people on the go. The best thing about it is that it's stable and operates the same way as the website.

Russian Cupid
Focuses on Russian dating
Lots of profiles of gorgeous women from Russia 
Safe and trusted website for dating Russian girls
What Kind Of People Will You Meet There?
The Numbers
Victoria Hearts has quite a pool of singles for you to choose from. With thousands of devastatingly gorgeous members, it is safe to say that you will be spoilt for choice.
The site allows you to meet single women from European and Slavic countries like Russia, Ukraine, Estonia, the Czech Republic and many more.
The Quality Of The Profiles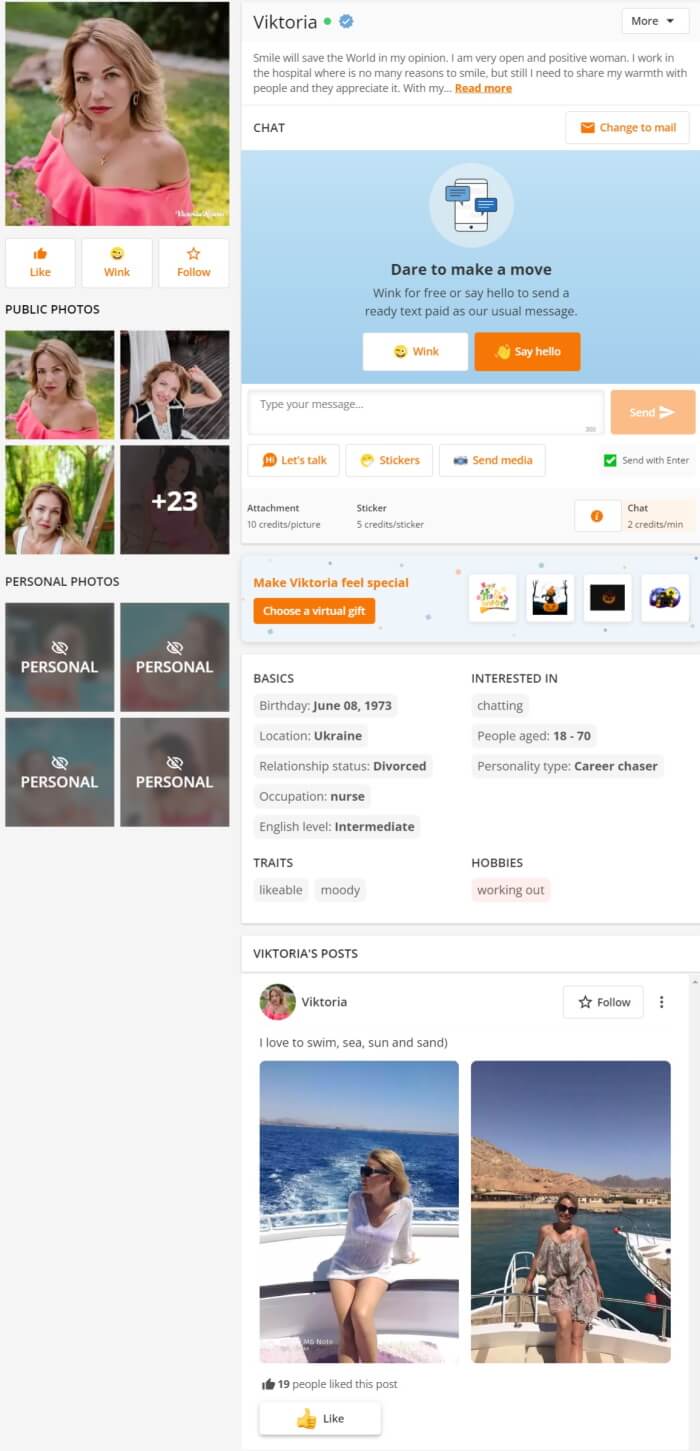 The people you get to meet on Victoria Hearts are pretty diverse. However, the one thing you can be sure of is that everyone is there to find love and companionship.
The site ensures all members are genuine (at least seem to be with their strict profile verification process aimed at weeding out fakers and scammers.
Features
Communication options include instant messaging, e-mail services, and video chats. One thing that stands out is that you can communicate with multiple girls simultaneously. There is no need to keep going back and forth between different chat boxes.

Upon sign-up, you can immediately start sending likes and winks or even add the best matches to your favorites, all for free.

However, you will need to use some of your available credits if you want to send short messages, videos, love letters, or start a video chat. Believe it or not, Victoria Hearts have translators on call who can help you overcome the language barrier!
"My Statistics" is another neat feature of this dating platform. By clicking the icon located in the right-hand corner, you open a page that lists all the people who viewed your profile or put you in their favorites list.
Here, you can also see all your e-mails, messages, favorites, and contact and meeting requests.
Contact And Meeting Requests
These are special features that help speed up the process and allow you to see who is truly serious about getting to know you.
Photo And Video Sharing
This is another cool feature that makes Victoria Hearts stand out, as most other services are all about chatting only.
Gift Delivery
As a site that caters specifically to the needs of long-distance lovers, this is definitely a feature worth celebrating.
It comes under their "Gifts and Flowers" feature, allowing you to order treats and have them delivered to your significant other.
24/7 Support
If you run into any trouble while on the site, you can use the help of dedicated customer support personnel. Just explain your issue, and you will have it sorted out in no time.
Other features
Victoria Hearts' special features are what have helped this dating platform stay fresh and relevant.
On top of updating your matches daily, they added fun, unique options that ensure searching for new faces never gets old.
Here are Victoria Hearts' most popular "Special features":
Contests
The 24 winners from Victoria Hearts' latest beauty contest are shown in this feature. You'll recognize the winners wearing fiery red gowns.
Search
The search option allows you to browse other users and find matches. You can also take advantage of the extended search feature to adjust your preferences based on location, age, gender, or religion.
Faces
Victoria Hearts uses an advanced algorithm that "hand-picks" the best profiles for you. This feature allows you to find the best suggestions and "Like" or "Skip" them according to your preferences.
Credits
This option reveals your credit balance. If you are running low on credits, you can always get more by clicking the "Buy Credits" button.
My Statistics
This feature tracks all your activity on the Victoria Hearts dating site, hence the name. Here you can see who visited your profile or sent you a message or an e-mail. It also shows:
Added Me to Favorites
Who Liked Me
My Favorites
My Contacts Requests
My Meetings Requests
Flowers & Presents
Special Services and Support
Safety And Anti-Scam Policies
Online dating bears the risk of exposure to online dating scams. This is why it is important to only work with websites that have measures in place to protect you.
Victoria Hearts takes its clients' security very seriously. This is apparent in the various online dating safety measures that they have taken, including:
SSL Encryption of all correspondence.
Inbuilt anti-malware programs like Norton and McAfee Secure.
PSI and DSS compliance.
Use of trusted payment channels, including MasterCard and Visa, for paid services and gift orders.
Profile verification.
Constant broadcasting of safety tips to all members.
Scam allegations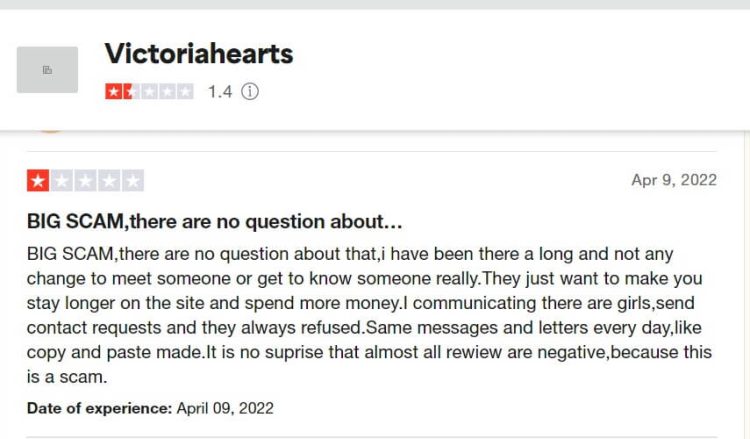 Is VictoriaHearts real?
Despite the strong safety and Anti-Scam policies Victoria Hearts are trying to implement, we can't fail to notice the number of seemingly fake profiles on their online dating platform.
A score of only 1.3 on TrustPilot and 1.59 on SiteJabber shows mass customer dissatisfaction in this regard. Unfortunately, there are multiple testimonies by people claiming that most of the gorgeous supermodel type of girls you can see all over Victoria Hearts are fake. It's almost impossible to know who you are talking with.
Others say these women are only there to make gullible men spend money on them without any real interest in meeting, dating, or starting a relationship.

Similar accusations have appeared regarding the Victoria Hearts chatbots, which send messages to users just to keep them engaged and buying more credits.
There are some real women on this dating website looking for love, but evidently, they can be hard to find. In other words, be careful who you trust and open up to.
Pricing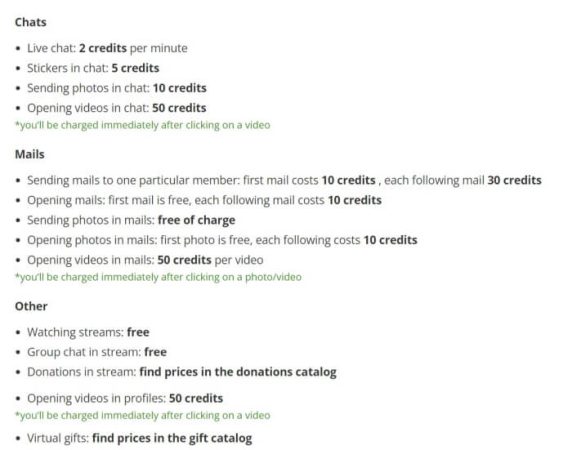 Some aspects of Victoria Hearts are free, including creating your profile, viewing profiles of others, and reading messages.

You can send winks and likes to as many users as you like. You can also open and view their profile and add to your favorites those you like best or believe can be a good match.

If you are feeling extra generous, you can access the gift shop for free, but an actual gift will still cost you some credits.
It will also cost you to respond to people's messages or e-mails and see who has viewed and liked your profile.

The site operates on a credit-based system where 20 credits cost $9.99.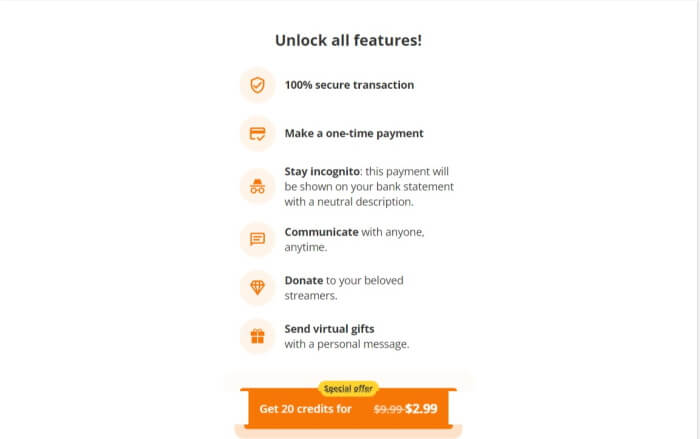 Pros
You get to see who viewed and liked your profile for faster matching.
They make your safety a major priority.
You can sign up and view profiles for free.
It lets you know when the person you are interested in talking to is online.
Cons
The website interface is pretty outdated, especially compared to modern site standards.
You will have to pay for most of the services.
Many negative reviews and scam allegations make the dating site hard to trust.
Final Thoughts on The VictoriaHearts Review
Victoria Hearts clearly has a lot going for it with all these amazing features. The unique chat capabilities, gift options, and strong security definitely help it stand out from all the other international dating websites. All these services and features are meant to ensure that you have as easy a time as possible finding and fostering love with your foreign beau.
Unfortunately, the Victoria Hearts' singles pool consists of many fake profiles. Who hides behind those perfect pictures is hard to tell. So watch for the red flags and stay safe. If a profile seems too good to be true, it probably is.