Are you looking for a free site to join to find lovers in your area?
If so, you've come to the right place! Let me tell you about FriendFinder X, the "world's largest casual personals site."
In this FriendFinder X review, you'll find everything you need to know about this awesome website!
I'll cover things like:
The site's primary and special features
How to register
How to interact with other members
The costs of becoming a premium member
All that so you can hopefully have your desires fulfilled soon!
Let's get started.
Overview And Statistics About FriendFinderX
FriendFinder X is a casual dating and hookup site for individuals and couples of all genders and sexual orientations.
In existence for over two decades, it currently has more than 90M members, most of whom are active every week. It has one of the largest member bases of any FriendFinder network dating site.
Members by age groups
FriendFinder X's pool of singles mostly consists of young guys and girls looking for fun and easy hookups. Having said that, 60% of its users are between the ages of 25 and 44. Here's a detailed look into the age distribution:
35%: users between 25 and 34
25%: users between 35 and 44
20%: users between 45 and 54
15%: users between 18 and 24
5%: users 55 and above
Also, the number of women on the web site is significantly larger than that of men, giving guys a better chance at scoring a date.
Members by location
With over 90 million registered users, finding good quality matches on FriendFinder X shouldn't be hard at all. Most users (over 100 000) come from the United States, but there are also people from some Middle Eastern countries, Asia, and the UK.
Who is it for?
One of the best things about FriendFinder X is its openness to every sexual orientation. Members of the LGBTQIA+ community are always welcome and supported by the portal. But that doesn't mean straight users won't be able to find a good match. On the contrary, there is room for everyone on FriendFinder X; the more, the merrier! The only thing is you need to be 18 to get on the platform.
The main market for FriendFinderX is individuals or couples who want their sexual fantasies and desires fulfilled. It's definitely aimed more toward those seeking casual encounters and discreet hookups rather than long-term relationships.
How does FriendFinder X work?
If you are new to the online dating scene, you may find FriendFinder X a bit overwhelming just because there are so many options wherever you look. From adult blogs to explicit photos and videos – there is something to everyone's tastes and liking.
How you browse this adult dating site depends entirely on you and what you are looking for. Are you interested in a local fling, or do you prefer something long-distance and more discreet?
To do a more effective search, users need to enter a location or ZIP code manually. You can also browse people who are currently online or based on personal preferences like physical appearance, age, and sexual orientation.
One of my favorite features of FriendFinder X is the "Hot or Not" game, where members give another user a thumbs up or down based solely on their picture, much like the swiping option many of the popular dating apps have.
FriendFinder X is a mobile-friendly site, so you won't need an app to search and communicate with other users.
Registration Process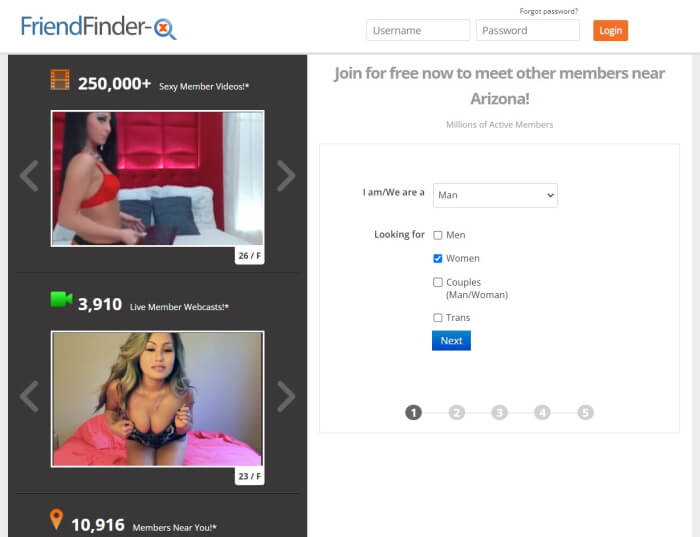 The registration process for FriendFinder-X is very straightforward. When you first open the site, it will geo-locate you to determine where you're at and then ask you to select your gender from a drop-down list of choices.
After you've made your selection, you are led to a simple sign-up process that will gather your information, such as your:
age
email address
body type
race
marital status
short bio
It will also ask you to designate a username and password and write an introductory headline that must be at least ten characters long.
You can begin using the site once your email address is verified. Most of your profile is blank at this point, but as you fill out more, it becomes easier for the site to determine how compatible you are with other members.
FriendFinder X has a Personality Type quiz to help you find the best possible match. Answering a line of questions about your personality allows the algorithm to match you with people who are most likely to be your "type."
You are expected to give "strongly disagree," "somewhat disagree," "somewhat agree," or "strongly agree" types of answers.
Once you complete the Personality Type test, your profile will get a special icon.
Site design and usability
One could say FriendFinder X is one of those "less is more" dating sites. The simple design allows for easy use, simple navigation, and quick searches. There are no bright colors or countless buttons and tabs that could make searching for a fling a nightmare.
On the other hand, younger users who prefer busy, flashy websites with millions of options may find FriendFinder X's simple design a bit boring and old-fashioned.
This online dating site is basically divided into 5 different segments you can navigate back and forth:
Your "personal profile" where you can edit your account settings, information, photos, and videos.
The "Search" tab to browse for new matches and adjust your search options based on your preferences.
There's a separate section you can visit to play the "Hot or Not" game.
"Community" is where you read other users' blogs or write your own.
The "Live Performance" section is where you can watch and tip live models.
Interface:
As we already mentioned, this dating site is desktop and mobile-optimized and can be accessed through both your phone and computer.

Registration:
Like most online dating sites, FriendFinder X sticks to a simple and easy registration process.
You only need to put a few pieces of personal information, and you are in. You can join individually, as a couple, or even as a group. By listing your sexual orientation and preferences (straight, gay, lesbian, transgender, etc.), you help the algorithm find the best matches for you.
After you've finished the registration process, you will receive an email with a link you need to follow if you want to fully enable your FriendFinder X profile.
Does FriendFinder X Have a Mobile App?
FriendFinder X doesn't have an app yet, but since the dating site is mobile-friendly and supported by every browser, you can freely access your FriendFinder X account on the web. You can sign up, log in and use your profile just like you would through your computer.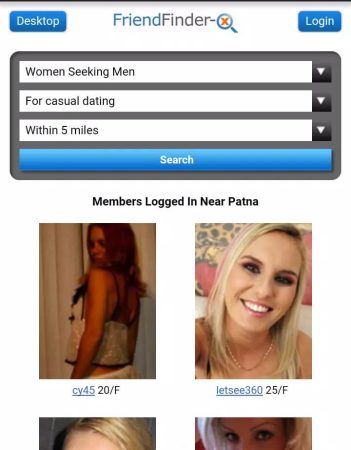 Profile Quality
One of the primary benefits of FriendFinderX is that the profiles are incredibly complete and informative, especially if the member in question has taken the time to fill everything out.
With a standard member profile, you can see their:
introduction paragraph
personal information
fans and friends list
activity stream
Also, on the member's profile, you will see a Compatibly Chart that ranks how compatible the two of you are based on your responses and profile information.
If you want, you can add a testimonial to a profile to get their attention or send them gifts (FriendFinderX calls them 'Blings').
How To Use FriendFinder X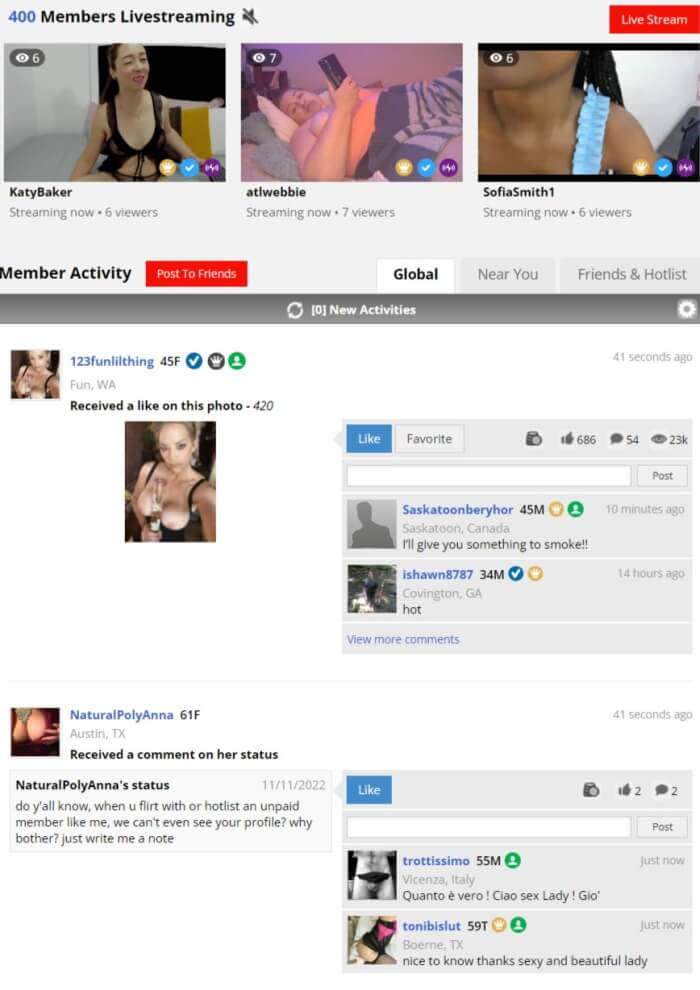 This is what you really came for, right?
The moment you visit FriendFinder-X, it will be clear what the 'X' in the title stands for.
On the homepage, there are lots of posts, photos, and videos from other members (much of which contains explicit NSFW content) that you can like or comment on.
You can also see your featured matches or other users you have matched with based on your preferences.
There are numerous browsing options available:
In the "Live Action" section are live model video chats and webcams, including an instant messaging area where you can contact anyone who is currently online.
This is the best place for cyber sex in Friend Finder-X, and you can contact members here either individually or in groups.
Meanwhile, in the "Search Options" section, you can search for other members based on:
usernames
new matches
who's online
members near me
VIP members
kinks
advanced search filters based on specific criteria such as astrology signs
Getting in touch with other members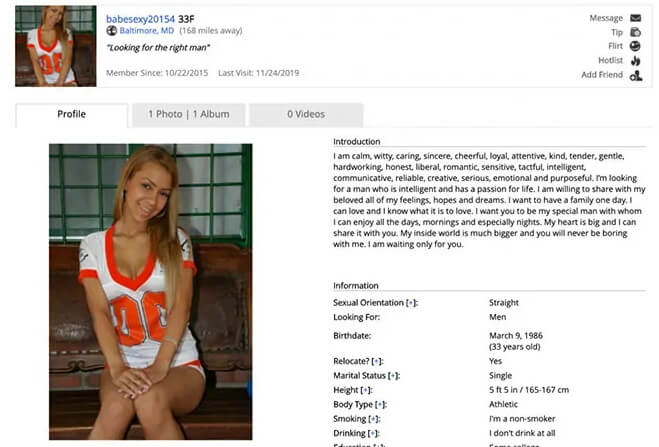 How you get in touch on FriendFinder X depends on whether you have a basic or premium membership.
As a basic user, you can add your favorite matches to your hotlist and comment on other users' public pics and posts. Free members can also send messages to Gold Members who have purchased the "Standard Contacts" add-on, but unfortunately, there is no telling which Gold member has bought those.

Users with a FriendFinder X subscription have access to all communication features on this dating web site. You can send an infinite number of flirts and messages, add people to your Favorites List, see their full profiles and even send an access request to their private photo albums.
If you love watching Live Models, you can show your appreciation by tipping them for their work or bidding to become a profile's Top Fan. To use these features, you'll need to buy additional "Points" and "Tokens."
There's also a "Hot or Not" game option where you can mark other users' profile photos with a 'Thumbs Up' or an 'X.' This enables you to quickly add up your hotlist, and you can contact the members in your 'Hot List' later.
Your "Hot List" is the best place to go when you want to access the site and quickly get in touch with somebody. Of course, this doesn't guarantee that they will respond. You should contact multiple or all members in your Hot List to increase the odds of at least a few of them responding to you.
Also, don't forget to check out the blogs and erotic stories features, where there are posts, stories, and fantasies written by other members that you can read and comment on (or otherwise create your own for others to engage with).
You can interact with members by commenting on posts too.
Finally, in the Sex Academy feature, there are in-depth courses on sex-related topics to help you live a more sexually thrilling life.
Key Features of FriendFinderX
The primary features of FriendFinder-X include:
Member compatibility chart on each standard profile.
A built-in broadcasting service that enables you to stream your videos directly from the site.
Matches is a special feature that pairs singles, couples, and groups for future communication and dating. All you need to do is send likes and flirts to other members you find interesting and attractive and wait for them to like you back. This "game" helps the matching system improve its efficiency and bring the right people together.
Convenient filter and sorting options.
Video cybersex feature (called Connexion).
Rating system for sorting through other members to find compatible matches.
Hot or Not (a roulette-type matching service where you can click a 'Thumbs-Up' or an 'X' on each profile photo displayed).
Blogs & groups where you can interact with community members by writing your own blog posts or commenting on other posts.
"Adult movies" is a feature you can only access as a premium member. If you decide to buy the Gold membership for a year, you should definitely take advantage of this feature. It will spice up your sex life and awaken your deepest fantasies and desires.
The Live Action feature is where you can watch X-rated live streams of real-life models.
The Sex Academy feature provides courses and advice on different sex-related topics. You need to have a Gold membership to access this feature.
Erotic Stories (similar to the blog, it allows you to be creative and write stories detailing your innermost fantasies. You can comment on the stories of other users too).
Security Measures
User safety and security are FriendFinder X's number one priority. In partnership with GoDaddy, this platform provides a safe space for online dating.
The website is certified and encrypted, so data leakage is almost impossible. There is no real danger that someone may hack in, steal or sell your personal information.
Internally, FriendFinder X constantly improves and updates the platform's terms of usage. In other words, whoever fails to follow their rules and guidelines gets banned from the site.

You can also block or report abusive members or alert the ream of moderators of any suspicious activity.

Friend Finder-X is verified by GoDaddy and complies with the US-EU Safe Harbor Framework, the EU Privacy Shield Framework, and the US-Swiss Safe Harbor Framework.
The site relies on firewalls, SSL encryption, and other standard security measures to protect its users' personal and financial data.
Cost of Membership
It's free to sign up (and create a profile) with FriendFinderX, and you can look around the site without paying a dime.
The portal also has some free services and features, including:
Joining groups
Reading and commenting on the blogs
Joining chat rooms
Sending likes to videos and photos
Browsing live member chat rooms
However, most services require you to have a paid membership plan:
Viewing the Sex Academy courses
Sending Flirts to members
Accessing Priority Customer Support
Reading and sending private messages
When you want to send friend requests to members
Commenting on pictures and videos
Watching full-length videos
Removing ads
To access the paid services, Friend Finder X offers a few different membership options:
Their Gold Membership costs $40 per month or $240 per year.
Alternatively, they also offer a token-based system where you can purchase credits to access the site's features. One hundred credits will cost you $12, while 1,000 will cost you $99.
Membership add-ons include:
Standard Contacts (Gold Membership add-on)
It allows users with a Standard Membership to see your full profile and message you anytime.
Membership Cost (USD):
1 Month for $20

3 Months for $36

12 Months for $108
Points are either earned or purchased. Users can earn points via website interaction such as daily log-ins, uploading photos and videos, and chatting with other members.
You can also buy points. You get:
200 points for $3.00
500 points for $6.00
1,000 points for $10.00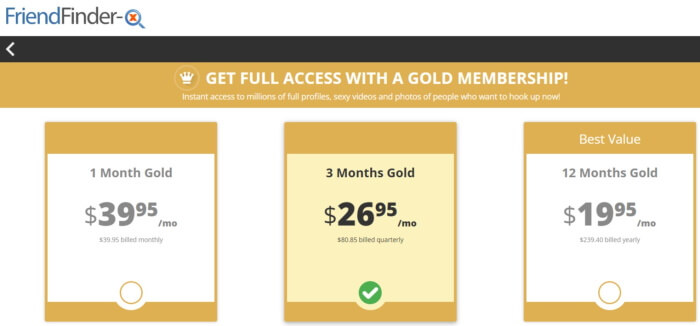 Customer Service
You can get in touch with Friend Finder's customer support in multiple ways:
Through the toll-free hotline at 888-575-8383 (US)
Chatting with a live agent
By e-mail
Pros of Friend Finder X
Fast sign-up process that only takes about 2 minutes
Exciting features, such as erotic blogs, live videos, and group chats
Search capabilities that make it easy to filter through profiles and find the best matches
Well-built profiles that include tons of personal information and photos
Connexion – a life-like digital video sex feature
A rating system that allows you to browse through images, videos, and members easily
Bigger data capacity that allows upload of high-quality photos and videos without restrictions
Live-feed to keep you up to date with trending members
Lots of good profile customization options
A dedicated team of moderators that monitors and regulates fake profiles
Fast and efficient support
Cons
You must have a paid membership to communicate with other site members
Additional features (such as gifting or model chats) require you to pay extra
Users with the free membership get to search and browse matches but not instigate communication. (You'll need a paid membership to get in touch with other users.)
Higher membership fees compared to other similar dating sites
No automatic matching; the search for matches has to be executed manually
FriendFinder X' NSWF structure and design
Sites Like FriendFinder-X – the Best Alternatives
With FriendFinderX being a part of the vast Various, Inc. network of sites like AdultFriendFinder, there are a lot of great alternatives to FriendFinder X this one too. Check out my favorites:
Best alternative to FFX
Adult Friend Finder
Among the oldest and largest online sex and swinger communities, AFF has become one of the most popular sites for users looking for a casual encounter.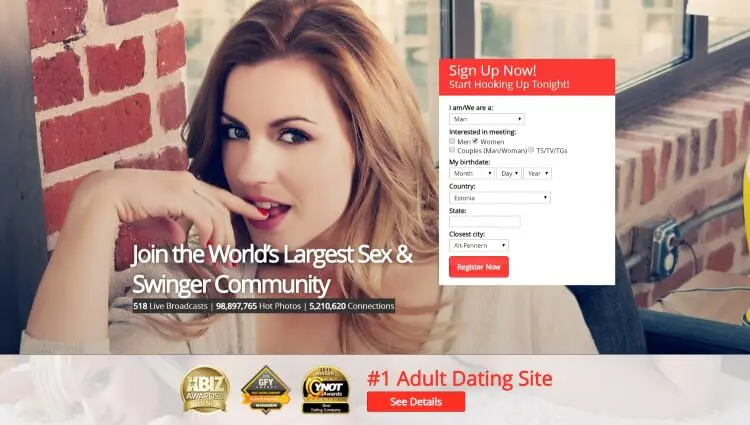 Find real sexual partners
XMatch
Belonging to the Friend Finder Networks like Adult Friend Finder, XMatch is available to everyone older than 18. It has a ton of great features to help you find real sex partners.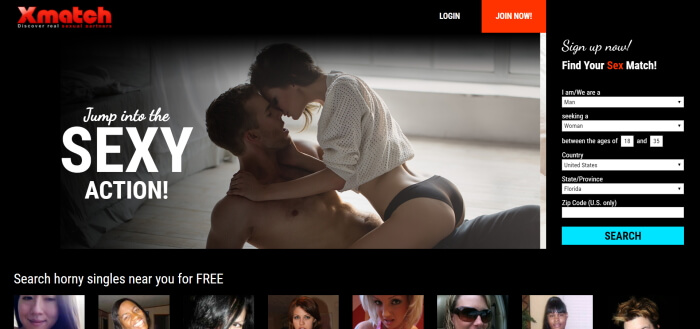 Real hookup site
SexFinder
SexFinder promises to be the largest hookup website in the world, with nearly 40 million members! The site is focused on quick and discreet local hookups.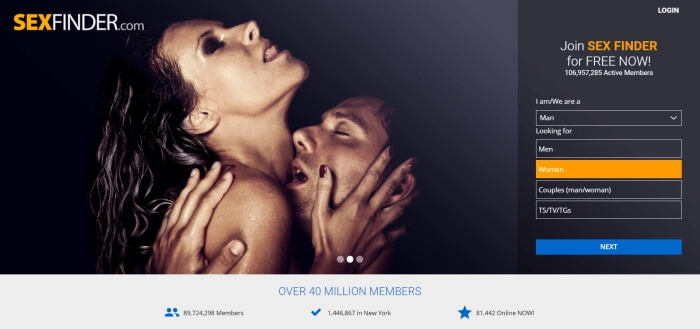 Final Thoughts on FriendFinder X
If you've been looking at the portal for a while now but haven't decided whether it's the right platform to fulfill your desires, I hope this FriendFinder X review helped you make up your mind!