Ever found yourself daydreaming about the vibrant energy of Brazil, especially the allure of a Curitiba woman? Well, you're not alone. Curitiba women are unique, known for their warm smiles, captivating personalities, and deep-rooted values. But here's the catch: these ladies are distinct, and navigating the dating scene in Curitiba can feel like a maze for many men.
Don't sweat it! With my years of experience in the Latin dating world, I've got the inside scoop for you. I once met a Curitiba woman during a sunlit carnival, her charm radiating brighter than the festivities around. Our short-lived whirlwind romance taught me loads about the local dating landscape.
In this article, you'll discover:
The top spots to meet Curitiba women during the day
Inside details about the city's nightlife hookup scene
Best dating sites tailored for Curitiba connections
And, of course, those golden tips to woo a Brazilian beauty
So, are you ready to dive deep into the heart of Curitiba's dating scene? Trust me; it's an adventure you don't want to miss. Keep reading, and let's unlock the secrets together!
Best places to meet sexy Curitiba girls during the day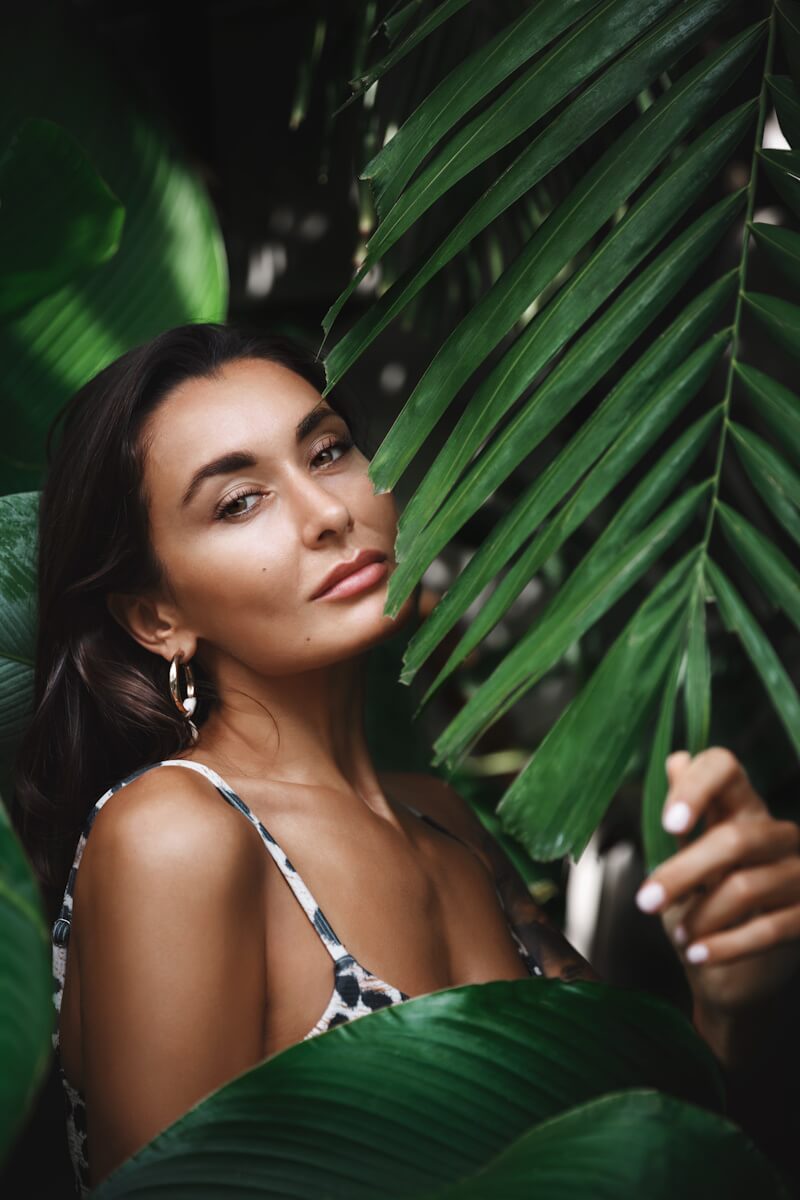 Let me tell ya, Curitiba isn't just another Brazilian city; it's a canvas painted with lively colors and buzzing energy, practically begging you to meet someone special.
The Pulse of the City: City Center and Batel
Picture this: A buzzing center where the city's heart seems to beat in rhythm with yours. The City Center and Batel are the lifeblood of Curitiba. Imagine walking by rows of cool shops, mouth-watering eateries, and cozy cafes. If your dating game is on point, this is where you wanna be.
Shopping Hotspots: Where Romance and Retail Meet
Shopping Curitiba: Nestled right in the City Center, this place isn't just a shopping haven, it's a social hub. Both locals and visitors throng here. Trust me, opportunities to say 'hi' are endless.
Park Shopping Barigui: If your taste leans towards the finer things, this is your spot. Designer brands and gourmet food courts are the cherries on top.
Pátio Batel: Speaking of class, how about a dash of luxury? Pátio Batel in the Batel area is like the VIP lounge of shopping centers. This is where you meet women who know what they want.
Shopping Estação & Shopping Mueller: Casual and fun, that's the vibe here. Perfect if you're looking to keep things light and breezy.
Coffee and Conversations: Where Curitiba's Heart Warms Up
If you didn't know, Curitiba loves its coffee almost as much as it loves soccer. And, oh boy, the coffee shops here aren't just about lattes and espressos; they're social melting pots. Check these out:
Café do Mercado: A local fave, and for good reason. Great place for authentic conversations.
Lucca Cafés Especiais: Wanna impress a date? Take her here. The coffee is as special as the name suggests.
Rause Café + Vinho: Ah, coffee in the AM, wine in the PM. The dual personality of this place makes it versatile for any kind of date.
Outdoor Vibes: Parks That Steal Hearts
Maybe you're the type who loves the great outdoors. If that's the case, Curitiba's parks will be your playground.
Jardim Botânico: A must-visit wonderland of greenery and exotic plants. It's not just Insta-worthy; it's filled with locals who love to soak up the sun, especially on weekends.
Parque Barigui: Perfect for meeting fitness enthusiasts, joggers, and yoga lovers. If you're into health and wellness, this place is a goldmine.
Parque Tanguá: Imagine a casual date with a backdrop of awe-inspiring vistas. It doesn't get better than this for making a lasting impression.
So there you have it, the ultimate rundown of where to meet and mingle with the fantastic women of Curitiba by daylight.
Hookup Spots – Curitiba Nightlife For Single Men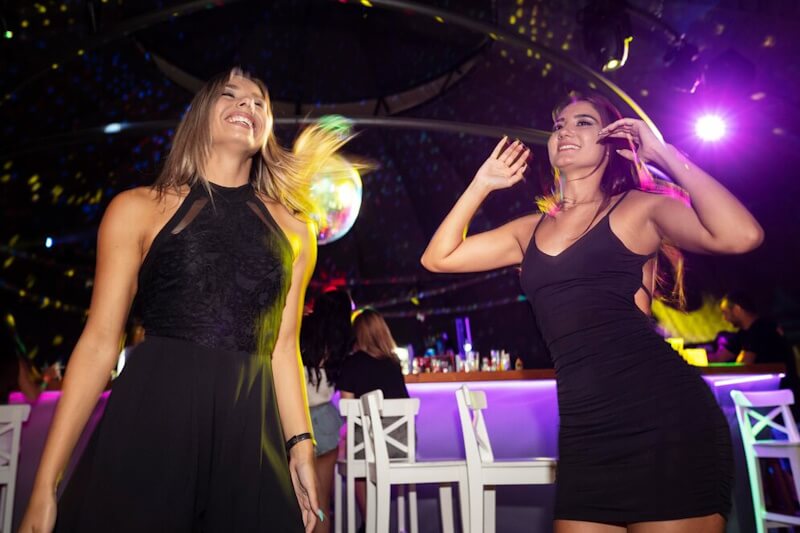 Now, if you're on the hunt for some amazing spots in Curitiba to mingle, dance, and maybe find that special someone, I've got you covered! Having been there and experienced it myself, I can assure you, Curitiba's nightlife is vibrant, diverse, and so much fun.
The Top Nightlife Districts in Curitiba:
Batel: If you're looking for a place that's buzzing with international vibes, Batel is your go-to! I've spent countless nights here, hopping from one bar to the next, grabbing a quick bite, or simply dancing the night away. Truly, many regard it as Curitiba's nightlife heart.
Itupava Street: Want a real taste of Brazil? Itupava is where you'll find those classic Brazilian beats, delectable cuisines, and an ambiance that's so authentically Brazilian. It's like taking a mini-vacation within the city.
São Francisco: Nestled in downtown, São Francisco has a charm of its own. Bars and clubs here are more pocket-friendly, making it a hot favorite among students. I've met some awesome folks here during my visits!
Best Nightclubs For Finding a Hook-Up In Curitiba
The club scene is teeming with sizzling ladies rocking their body-hugging dresses and mini skirts. If you're on the prowl for single gals, these dance floors are basically your buffet. So get ready to bust some moves!
Here are my favorite nightclubs to pick up Curitiba girls:
James Bar: Don't be fooled by its LGBTQ label; it's an absolute blast for everyone. The music here is top-notch, and trust me, their live band nights? Totally worth it.
WNK (Wonka): From Jazz and Blues to Samba and Rock, the diversity here is impressive. And if you're up for some singing, don't miss their Friday karaoke nights!
Best Pickup Bars
Conversations flow better with a cocktail, don't they? Explore the hottest bars to find alluring singles:
Taj Bar: I love starting my evenings here! They have this amazing happy hour deal till 8 pm, and the sushi? Simply to die for.
Madero: Trust their slogan when they say they've got "The best burger in the world." My taste buds can vouch for it!
Sláinte: Nothing beats the combo of sports, friends, and some groovy dance numbers. This Irish Pub has it all!
Cosmos Gastro Bar: Their drinks are out of this world! Pun intended. The innovation in their drinks and food menu is something I always look forward to.
Estofaria Bar: A cool Brazilian 'hipster' hangout spot. From spicy to savory, their food menu is a global treat.
Curitiba is brimming with opportunities to make new memories. So, wear your dancing shoes, bring your charm, and dive into the city's electrifying nightlife!
Best Hookup Sites in Curitiba
Let's be real—crowded venues aren't for everyone. And that's totally fine. The beauty of today? Online dating. Whether you're after a serious connection or just some fun, you can find it without stepping foot outside. Curious about where to start? Let's dive in.
BrazilCupid: The Best Site to Score Single Women in Curitiba
Let's dive into one of the top spots online to connect with them: BrazilCupid.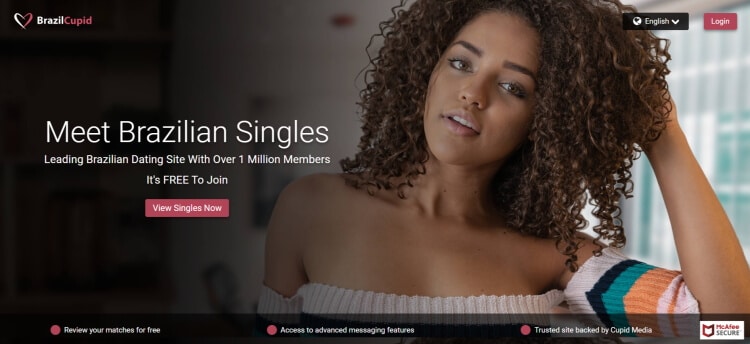 BrazilCupid is part of the Cupid Media family. These guys know their stuff when it comes to online dating. Founded back in 2000 in Australia, they've been helping people find love for a while now.
Who's On BrazilCupid?
As the name hints, this Brazilian dating site's all about connecting with Brazilian singles. But guess what? You don't have to be in Brazil to join. Many members hail from the US and the UK too. So, if you're interested in dating or befriending someone from Brazil, this is your place.
What Can You Do Here?
Just like other dating sites, BrazilCupid offers both free and paid memberships. With a free membership, you can set up your profile, upload photos, and peek at other profiles. To chat and unlock all the goodies, consider going for a paid membership. Trust me, it can be worth it!
Staying Safe
Your safety's a big deal. BrazilCupid has got you covered with a mix of automated systems and user reporting. But remember, always be smart and careful, especially when meeting someone new.
Stay Connected On The Go
You can take BrazilCupid with you wherever you roam! Their mobile app, available for Android and iOS, keeps the romance alive, even when you're out and about.
Speak Your Language
No worries if Portuguese isn't your first language. BrazilCupid caters to a global audience and supports multiple languages. Handy, right?
There you have it, friend! BrazilCupid might just be your ticket to finding that special someone in Curitiba.
LatamDate
If you're a gentleman eager to date women in Curitiba, Brazil, LatamDate can be a solid alternative to consider.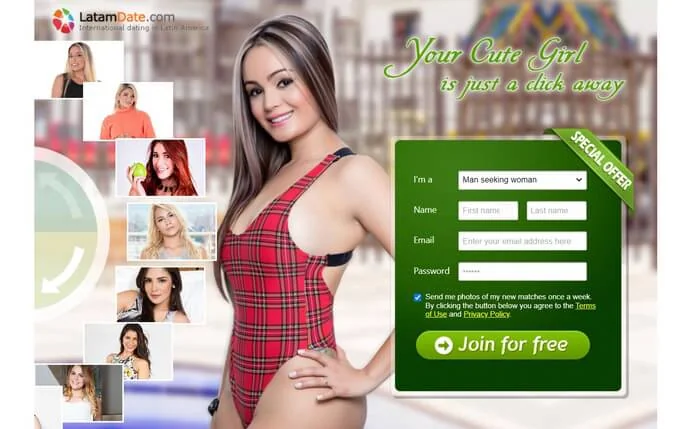 LatamDate is tailored for guys worldwide hoping to meet and date Latinas. Here's a quick dive into what they offer:
Functionality and Features: Think chat, video calls, and even gift sending. They might even verify profiles to lessen scams.
Membership and Pricing: Like some sites, it uses a credit system. Buy credits and spend them on features like messaging or video chats.
Reviews and Reputation: Responses are mixed. Some found love; others caution about scams. So, always stay alert!
Safety Measures: While they might check profiles, it's on you to stay sharp. Keep your personal details safe, and be careful with money.
In short, while LatamDate offers a space to connect with Latinas from Curitiba, always prioritize safety when diving into the online dating world.
Curitiba Dating Guide
Having explored the essential steps to meet enchanting singles in Curitiba, the next stage of your dating journey begins after she says yes. Your genuine chivalry is now the star of the show. Curitiba boasts myriad captivating spots to charm your date. Shall we explore them together?
Nice Places To Hang Out With Your Date
Curitiba, with its rich cultural heritage and picturesque landscapes, offers an array of charming spots for couples to explore. Whether it's your first date or a regular outing, the city provides a romantic backdrop to create memorable moments. Here's a compilation of nice places to hang out with your date in Curitiba:
Jardim Botânico (Botanical Garden): Take a leisurely stroll in the serene surroundings of this garden, admiring the exquisite greenhouse and array of vibrant flora.
Tanguá Park: Catch a breathtaking sunset together at this park, and enjoy a romantic evening stroll by the reflective water body amidst well-tended gardens.
Ópera de Arame (Wire Opera): Experience the architectural splendor of the Wire Opera, with its tranquil lake and lush greenery creating a romantic ambiance.
Parque Barigui (Barigui Park): Lay down a picnic, glide on a boat, or simply walk hand-in-hand amidst nature in this expansive urban park.
Museu Oscar Niemeyer: Explore the corridors of this architectural marvel together, appreciating both art and the unique design of the museum.
Estrada Da Graciosa: Drive through the scenic trails of the rainforest, enjoying the stunning vistas of the Atlantic forest, bay, and quaint towns along the way.
Best Romantic Restaurants To Take Your Date To
Marcondes Cozinha Autoral: Dive into the world of Brazilian seafood in a place where culinary creativity shines. The memorable dining experience here makes it a perfect spot for special occasions and sweet romantic dinners.
Pizza Dop: If a relaxed and cozy environment is what you're after, this place will win your heart with its delicious variety of pizzas. It's perfect for a casual yet romantic night out where love can blossom over a slice of pizza.
Lisboa Gastronomia: For those who fancy a bit of European flair, this high-end European and Portuguese restaurant is the place to be. Though a bit on the pricier side, the excellent food and service create a luxurious romantic atmosphere that's worth every penny.
Chalet Suisse: Step into a traditional Swiss chalet setting right in Curitiba. Known for its charming ambiance, this Swiss and European restaurant provides a quaint and intimate atmosphere that will make your date feel like a fairy tale.
Pantucci Trattoria: Are you both fans of Italian cuisine? Then, Pantucci Trattoria is where you should head. With its classic Italian offerings paired with a warm atmosphere, it's the perfect spot for a comforting romantic dinner.
What You Need To Know Before Dating A Woman From Brazil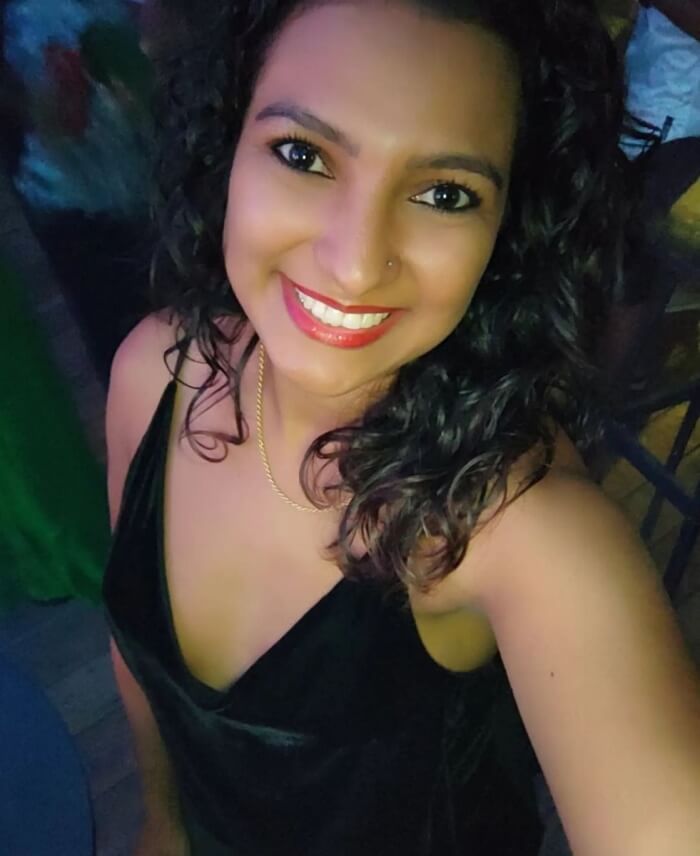 Curitiba, known for its lush green landscapes, also harbors a rich dating scene. My narrative in Curitiba was one filled with color and heartfelt connections.
The women here carry a gentle warmth, akin to the soothing greenery around. Being friendly and showing a genuine intrigue in their lives can spark a lovely bond. They are keen on sharing their cultural tales, and your curiosity will be well-received.
Family is their haven. Dating a woman from Curitiba means stepping into a realm of close bonds, a journey they warmly welcome you on.
Life's simple pleasures, a dance in the rain, or a hearty meal shared are moments they treasure. Participating in these joys together can spin a web of close companionship.
Transparency and honesty are traits they respect. A clear expression of your intentions and feelings can build a trustful rapport.
As you wander through the verdant paths of Curitiba, a genuine smile and an open heart might just be your companions in finding love.
Recife, with its colonial charm and modern vibes, offers a unique backdrop to explore the dating scene. My sojourn in Recife was a chapter filled with laughter, learning, and love.
Curitiba, is a blend of urban cool and old-world charm. If you're here to mingle with the locals, remember to book a spot near the City Center. Being close to the lively nightlife ups your chances of meeting someone special. The local real will stretch nicely with the current exchange rate, making your night-outs less worrisome.
The women here, much like the city, are a blend of tradition and modernity. Language might be a barrier, so picking up a bit of Portuguese or mastering a few samba moves could be your ticket to getting closer.
Enjoy Dating Curitiba Women
So, you've got the lowdown on Curitiba, a city that mixes urban modernity with natural beauty. We've listed hotspots like Barbaran for a night out and tranquil parks like Jardim Botânico for a daytime date.
Explore diverse venues, Curitiba offers a lot!
Keep it casual and genuine; girls here appreciate authenticity.
Online dating can also work wonders, so don't shy away from it.
So why hesitate? Curitiba is calling, and love is in the air!
If you found this guide helpful, don't forget to like and subscribe for more insider tips. See you in the next post!