HeatedAffairs.com sure lives up to its name:
It is an out-and-out cheating website for people like you and me looking for a little fun on the side. And trust me, I have had a lot of fun thanks to this site!
So let's dive into this review of HeatedAffairs.com and see if you can find a new and discreet liaison you've been dreaming of!
Overview of Heated Affairs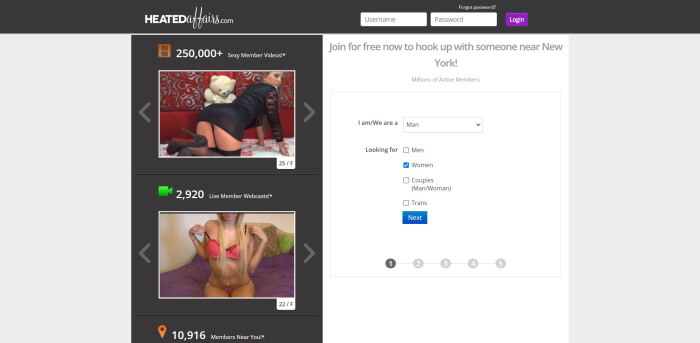 Even though males outnumber female members by 70:30, a user base of 48 million means you shouldn't have a problem finding compatible matches to get it on with.
The site welcomes people of all genders and sexual orientations and is LGBTQ-inclusive.
Although it's not aggressively advertised all around the web, Heated Affairs receives over 200,000 visitors a month, and over seventy thousand members sign up for it monthly. The secret lies in the amount of good publicity it gets through word-of-mouth.
Most Heated Affairs users are over 25, and there is no particular concentration in any age group – perhaps a sign that age is not a number when people seek affairs!
If you are looking for a one-night stand or an exciting and discreet relationship, continue reading my detailed Heated Affairs review!
The Sign-up Process
You need a valid email ID and be older than 18 years to sign up. The internet dating site allows couples and groups to register for a single account, which is a novel feature!
The registration process takes about 10-15 minutes, as you need to fill up five different forms. Since the Heated Affairs dating site matches members based on profile info, it's worth filling out in detail.
Here are the five steps of registration:
The first form asks about your sexual preferences and orientation.
The second one requires your age and location. This information helps the portal maintain a database where users can search for others for local hookups based on states, cities, countries, zip codes, etc.
In the third form, you create your Heated Affairs account with your email, username, and password. We strongly recommend using a nickname to protect your real identity. It makes sense as most people on this internet site are looking for a discreet affair.
The fourth form is all about your personality – your likes and dislikes, hobbies, marital status, etc. Thankfully, "prefer not to say" is an option to fall back on.
The fifth (and last) form goes beyond numbers and demographics. You can unleash your creativity by putting up a bio within ten characters and stating your expectations from the site.
After registration, you can head to the Heated Affairs login web page anytime and start exploring its numerous features.
You have several personality quizzes and sexual questionnaires to choose from as well. The questions range from your body type to your past sexual encounters.
All your answers are fed into the search queries so that you get more compatible matches. It's in your own interest to be as detailed as possible!
Members & Profile Quality
The member pool of Heated Affairs is very diverse. As I already said, the site is open to people of any sexual orientation, and it supports the fulfillment of all sexual desires.
For example, you'll find couples interested in finding a partner for a threesome or swingers who want to swap partners. There are around 180 000 adult chat rooms and groups for all imaginable kinks and fetishes, from bondage and dominance-related themes to foot fetishists and role play groups. You can browse these groups by keyword, topic, or even location.
However, there's also a huge pool of married individuals and cheating spouses looking for "traditional" and discreet affairs. Although it's not exactly a sugar daddy site, you can find these types of offers, too!
The profile quality on this portal is excellent as it displays a lot of information about each member. The affair site even goes the extra mile in ensuring you are a real person (more on this later) to keep fake accounts away.
Profiles are loaded with information and include pretty much everything people want to share when registering. So, you'll see member information like:
names
location
age
the bio they wrote
photographs
sexual preferences
marital status
sun sign
body type
Besides that, you can also see how they answered their personality tests, such as the Purity Test. The profile also includes charts, friends, testimonials – the list goes on.
Note that this information is not available for free Heated Affairs members. They are restricted to just browsing standard-size photographs and basic information.
Member profiles also have some essential interaction links, such as messaging. You can do a lot through messages – share pics, send smileys, private albums, virtual gifts, and flowers, etc.
There are a host of other interaction options that allow you to:
send flirts
add people to your Hotlist
send a tip
refer to a friend who is not a member yet, etc.
Usability And Features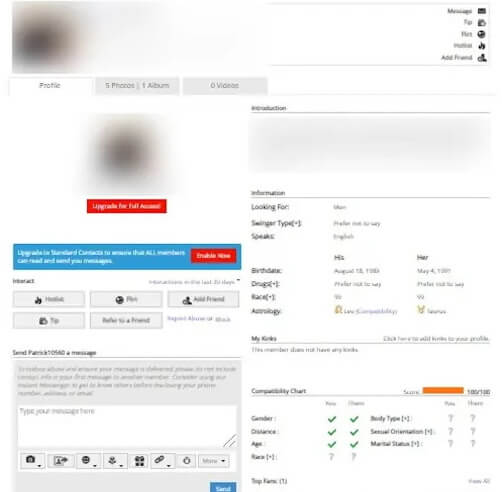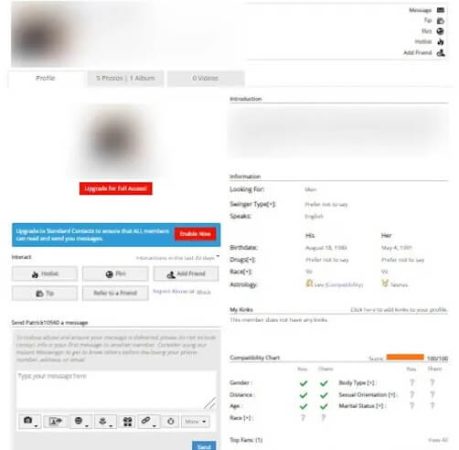 Design & Usability
There are two ways to look at this internet site:
Some would find it very informative, as it packs in a lot of information on a single screen.
Others might find it cramped.
Either way, the centrally positioned feed keeps you updated about all the features you want.
If you're only interested in the important bits rather than every possible info available about users, you might want to try the mobile-friendly version of the website. It hides some of the details neatly and presents the most important information nice and center to get you started.
The Heated Affairs site seems geared towards getting an up-front commitment from the users, as full-sized photographs and videos are not available to free users.
Once you pay for a premium membership, you will unlock the full functionality, which more than justifies the price.
Features
Heated Affairs stands out from other sites like Ashley Madison by offering very useful features.
For example, you can build your own friends' network, like their photos and activities, giving you a social media experience.
Your profile page lists your fan list, activities, testimonials, etc.
The Live-Action tab is another novelty that lets all users watch live member webcams and shows hosted by professional models.
There are some more unique features like:
The adult movies section lets you watch or download nearly 2000 quality adult-themed movies.
Search highlights – pay to boost your visibility and appear at the top of the search.
Contests – monthly events where everyone can participate by sharing their sexiest-themed pictures. All paid members can view, comment, like, and vote during the contest.
Sex academy courses – learn new bedroom tips and tricks (Gold members only)
Member blogs – enjoy amateur erotica written by fellow members.
Heated Affairs magazine
Erotic stories
I love the Advanced Search options where you can filter members by:
Online status
Broadcasting now
Feature photos and videos
Confirmed profile
Premium membership options such as having a Gold membership or VIP status
Like on other online dating sites, you can filter profiles by people's physical attributes or shared interests as well. Since filling out every section of your profile is not compulsory, these filters don't always work as expected. However, considering the large number of members who are active, you're bound to find someone who matches at least some of your criteria.
But perhaps the best feature of this particular service is the Kink Search! It allows you to browse members based on their sexual interests. If you're looking to spice up your sex life and try new things, Kink Search is definitely worth trying! Don't forget to update your profile with your fantasies so other members can find you too.
Contacting Members
Things get serious here! No user wants to end up chatting with fakes after purchasing a premium membership. The portal has done this nicely by restricting most of the direct contact features to serious (paying) members only.
Communication is central when dating online, and Heated Affairs has you covered as well – the site offers a host of communication options, including:
Direct Messaging – The most common way to connect with others is made more interesting by including features like photo attachments, sending virtual gifts, smileys, and sharing albums. Gold users can initiate a conversation with anyone.
Hotlist – You often bump into interesting profiles that you want to keep tabs on. A paying member can add up to 1000 members on their Hotlist.
Flirt – Given it's a dating network, it is a carefully thought-out feature that lets you convey your interest in other members without having to think of pick-up lines.
Instant Messaging – Considering the short attention span of internet users, instant gratification is a much-desired feature. IM lets you chat with others via video, provided they are also using it.
Chat Rooms – One of the rare contact channels available to both free and paying members, public chat rooms let you broadcast your availability to a wide group. It is definitely worth giving a shot, even though your audience will likely constitute quite a few non-serious users.
Friend Network – Having your network is a good way of indicating you're a real person. If you are a paying member, take some time building your network, as it tells others that you are a genuine, trustworthy person.
Security And Customer Service of HeatedAffairs.com
Anti-Scam/Safety Measures & And Is Heated Affairs Safe?
Heated Affairs goes a long way in ensuring there are actual human beings on its dating platform looking for fun. You are required to verify your profile by uploading your photograph with your signature on it.
Alternatively, you can go for third-party verification facilitated by ConfirmID. Once done, you get rewarded with 500 points, which you can use on the site.
Contacting the Customer Support Team
For a site providing this many features, our Heated Affairs review would be incomplete without mentioning its customer support.
Should you have a question, the community help page is very likely to have an answer to it already. If you do not find what you are looking for, there is a dedicated forum where you can raise your concerns, and someone from the team will address them fairly quickly.
If you are looking for faster contact, a live help chatbox is neatly pinned to the right, together with a dedicated phone number to call in.
Heated Affairs App
If you want to find exciting matches on the move, the brand offers a mobile app for iOS users. All is not lost for Android users, though, as the Heated Affairs website is optimized for mobile browsers too.
The mobile app is free to download, and the interface is reasonably neat. Even users not into technology will find it easy to use.
The app provides full functionality, and you can do pretty much anything you can do on the site's desktop version.
Membership
Free vs. Paid Account
The site has lots of free and paid services. For example, with a free Heated Affairs subscription, you can register on the site, create and edit your profile, and browse any chat room you like.
Other services and features of the free membership include:
Upload pictures and add videos
Adding up to 200 members on your Hotlist
Accessing and starting a show on Instant Messenger
Watching live model shows
If you want to meet people for casual hookups in real life or to have sex with married women virtually, you need to become a paid member.
Premium members get full access to a long list of really cool features, such as:
Viewing complete profiles
Viewing full-length videos and full-sized photos
Using the "Advanced Search" feature
Adding up to 1000 people on the Hotlist
Direct messages
Sending friend requests and flirts
Accessing the Sex Academy courses
Multiple votes during contests
However, some features are not included in any of the membership packages, so you need to pay extra for features such as:
Streaming adult movies
Getting your profile highlighted
Points that let you access certain features and interact with live cam models
Using private chat rooms where you can host virtual parties with guests you have invited personally. You can also open the party to the public if you want to add some fun!
Send messages to free members
Membership Prices & Heated Affairs Cost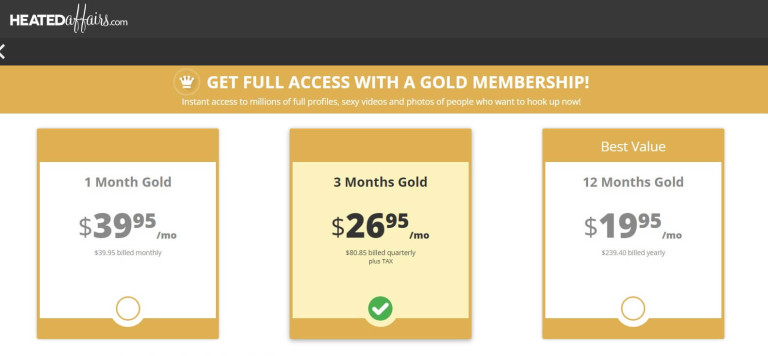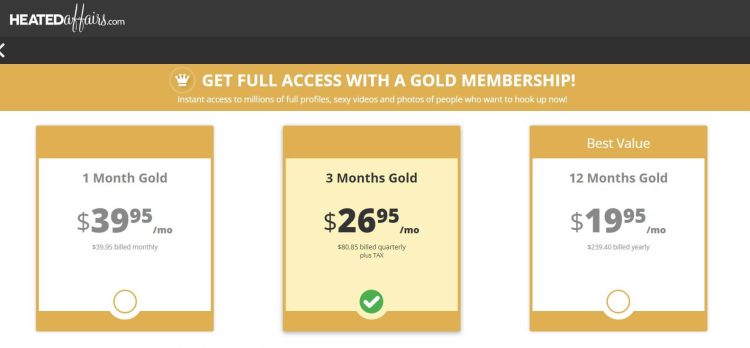 The Gold Membership is available at $39.95 per month. If you plan to use the site for quite a while, you can bring this cost to half by paying $239.40 for an annual subscription.
Although a Standard membership is a good start to get the feel of the site, it's best to upgrade to the Gold membership. Alternatively, you can buy some of the add-on features discussed above to increase your chances of finding a good match.
Sites Like Heated Affairs
There are some great Heated Affairs alternatives should you want to try other dating sites. Here are a few good ones I've had success with: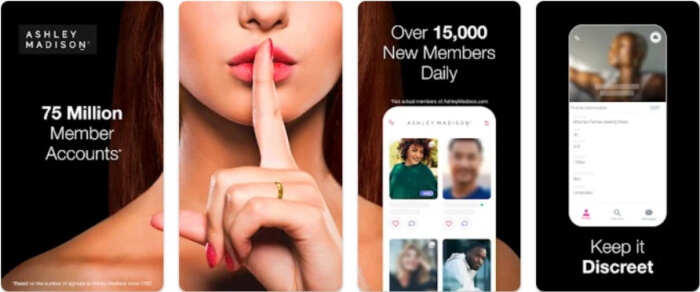 Ashely Madison has been encouraging extra-marital relationships since 2001. It has a very active user base that runs into millions globally. Most of the members are middle-aged, concentrated in the USA, UK, Canada, and Brazil.

AFF is an adult dating website for those seeking casual sex, hookups, and quick fun. It has over 80 million members worldwide and most are male users. The site focuses on exploring fetishes and different sexual fantasies, plus there are lots of features for cyber sex.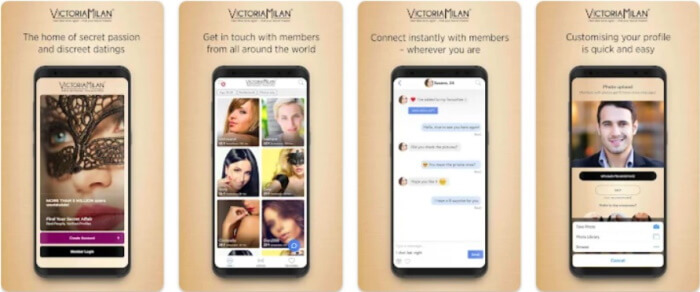 Victoria Milan is another excellent alternative to Heated Affairs, with a 60:40 women-to-men ratio. It doesn't hide the fact that it's an adult dating service and encourages members to get straight to the point – quick sex. It has over 120,000 active members every week.
Heated Affairs Reviews: What Others Say About It
With the outstanding user count and plentiful features, Heated Affairs seems to be the website you should sign up when in search of passionate affairs and sex.

DatingScout.com
Heated Affairs is the optimal solution for those who are married or those looking for a casual encounter with married people.

DatingInquirer.com
Frequently Asked Questions
💡 What Is Heated Affairs?
Heated Affairs is the world's largest cheating site – it helps people already in relationships find another person to get funky with. It's a niche site exclusively dedicated to cheating and extramarital affairs.
💡 Is Heated Affairs Legit?
Heated Affairs is a legit dating site for people seeking action beyond their relationships. Its parent company has a solid reputation in this domain, as it also runs AdultFriendFinder.com and 99Flavors.
💡 Is Heated Affairs Free?
Though you can access some interesting features for free, the real deal lies in purchasing a paid membership and trying out its awesome features.
💡 How to Know if a Member is Fake?
If you notice unusual behavior from a profile that does not have verified or confirmed tags, there is a good chance you are looking at a fake profile.
💡 How to Report a Suspicious Member?
If you have suspicions about a profile, there is a Report Member Abuse form that you need to fill out. Just go to the message center, mention the username, explain the issue, share the message/offense received, and there will be prompt investigation and action.