When I first started online dating, I was a very shy guy too. In fact, it was almost impossible for me to make the first move and message a girl I liked.
Sometimes, it was just because I lacked the confidence to do so. I would think about writing to someone that caught my eye, then got stuck in my head trying to figure out what to write and worrying that they would reject me. Other times, the site I was browsing was too "advanced," the signup process was too long, or the portal asked me to enter too many personal details.
Fortunately, times have changed, and a new wave of alternative dating sites has emerged. Among those, there are some excellent dating sites for people with introverted personalities!
Recommended dating sites for shy guys

eharmony
66 million members spread across 200 countries
Best for introverts and shy people
One of the safest dating sites

Friend Finder
Great to make new friend or find casual dates
Majority of users are in their 30s and 40s
Over 2 million users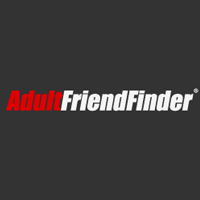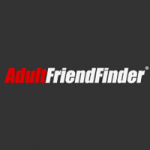 Adult Friend Finder
Alternative Dating Site For Introverts
Facilitates sexual interaction through multiple channels
Welcomes everybody
How we reviewed the Introvert Dating Sites
Reviewing online dating apps takes a lot of time and effort, which is why nobody does it thoroughly. However, it is the only way to find out if a particular dating website is worth it or not.
We have spent a lot of time and money testing different introverts and other online dating sites for shy guys over the last few years, so you don't have to. We can now tell you which site you can trust and which is a scam.
Let me walk you through our review process.
Dating Inspector Review Process:
We signed up for both the free version and any paid versions of the popular dating apps for introverts.
We browsed the sites for several weeks.
We communicated with many women using all the messaging features.
We set up dozens of dates with women and met up with them.
We rated our experiences against all the introvert dating apps we reviewed.
We got in contact with other users to gather some relevant feedback.
All these actions led to the following list of the six best dating sites for introverts:
So now, let's take a look at this dating guide for introverted and shy guys.
1. eharmony – Best Dating App for Introverts
eHarmony has earned a reputation for finding genuine people thanks to its RelyID process that mandates accurate member details. It has a high success-rate of long-term matchmaking, often culminating in marriage.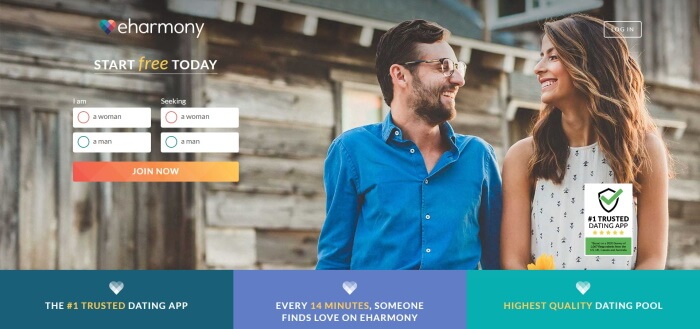 Member base
Its member count is in the region of 66 million spread across 200 countries, with 29 million+ members from the United States. The gender distribution is nearly even (53:47 in favor of males). Given the effort they put into verifying genuine members, a weekly member activity of 16 million gives users a wide range of choices.
Question-based matchmaking
The website believes in delving deep into the personality of its members to find suitable matches for them, making it a popular dating website great for introverts. You are required to answer a detailed questionnaire designed around 29 dimensions of compatibility, which explains the high percentage of long-term relationships.
Membership
Though there is a free version, we strongly recommend the paid membership to make the most out of its rich features. A one-month membership costs $59.95, but an annual subscription reduces the monthly cost to $19.95.
Although eHarmony is more expensive than other dating websites, given the fact that a member cannot initiate a conversation until his/her identity is accurately established, we'd say it is worth the money. Introverts looking for a reliable shy dating site are going to love it!
We Like
Top-level security and privacy features
Personality based matchmaking
Known for long-term relationships and marriages
Diverse member profile
Healthy gender ratio
Genuine profiles, courtesy RelyID
We Don't Like
Cannot search for specific profiles
Long sign-up process
Expensive compared to other dating sites
2. Friend Finder – Best Site to Make New Friends
This offering from the FriendFinder group caters to a diverse audience in terms of different genders and sexual orientations. It is a fun dating app for introverts, bringing together the casual element of social networking and matchmaking of dating sites. It mostly attracts members looking for short-term flings.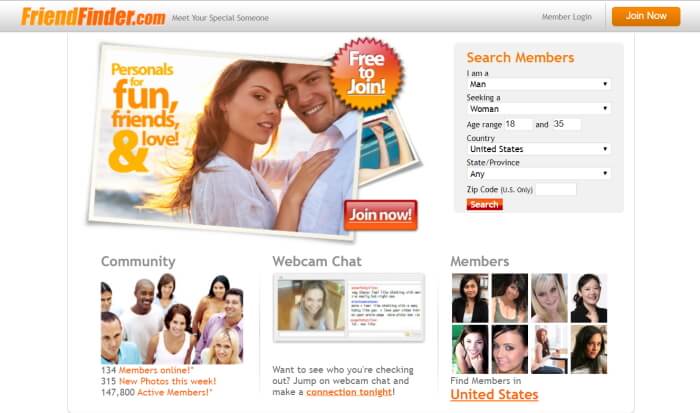 Member base
It has an active user base of over two million, with half of them being paid members. This is a rich pool that accepts users with different orientations and preferences. A majority of users are in their 30s and 40s, mostly seeking fun company and casual sex.
Registration
There are strict rules in check to keep out scammers, though some of them still slip through. The good thing is that the registration process is short, and you can complete it in only five minutes.
Basic information like gender, location, email, username, and marital status is required. Even if you are looking for a casual fling, do consider filling up your bio to convey some information about your personality.
Features
The messaging feature is not the best we have seen and is restricted to paid members only. Free members can still browse profiles and send winks or flirts to express their interest.
We Like
Large user base
Quick registration
Welcomes diversity
Only approved profiles can join chat groups
We Don't Like
Dominated by male members
Inactive forums and blog
Only paid members can send/receive messages
3. Adult Friend Finder – Fun Alternative Dating Site for Introverts
The site openly invites you to join the world's largest alternative community. It has gained popularity and earned the reputation of being the world's most preferred site for one-night stands. Just landing on the site's home page would convince you that it is for nothing but sex. But who said that introverts are not into sex and hookups?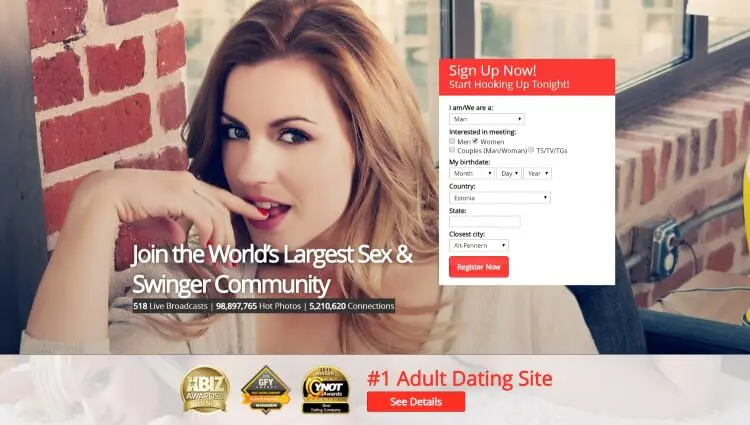 Member base
Its large user base and no-nonsense approach to sex make it a hit amongst dating sites for shy people. There are a staggering 25 million+ site visits a month, and explicit member photographs are not uncommon. The site has clearly put behind its data breach of 2016.
Registration
It is the perfect site for users fed up with answering tens of questions and wanting to get straight down to business. Just enter your intro and email, set your username and password, and get going. It offers many personalization features, and the more you fill it up, the better your profile gets. Women even get to enter their cup size! There is a humorously crafted Purity Test and personality test for those interested.
Membership
You get to do a lot of stuff as a free member (messaging, email, chat). However, there is a high percentage of paid memberships, and you can very well imagine what all it unlocks! Monthly membership costs $20, and you can save 25% by opting for an up-front annual payment of $180.
We Like
A trusted site with a large user base
Suited to those looking for casual sex
Mobile-friendly site
Facilitates sexual interaction through multiple channels (profile details, blogs, webcams, etc.)
We Don't Like
Mostly dominated by male members
The matching system could be better
No free app
Launched in 2009, Flirt.com is a reasonably new dating site that has gained popularity for finding fun company and casual flings. The site is positioned as a flirting platform and comes as a blessing for users looking for an online dating site for people who are shy.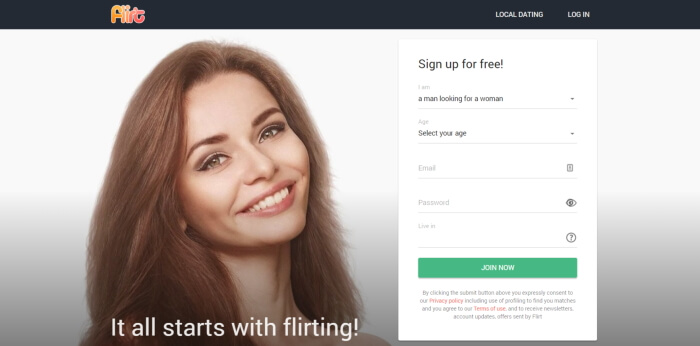 Member base
There are over a million users spread across the world, but at 300,000+ strong, the core user base is in the United States. In what will please men no end, the gender ratio of 60:40 is pleasantly tilted in favor of women.
Registration
New users can register and get started in just a couple of minutes. All you need to do is verify your email and enter minimal details. The downside is that this ease gets exploited by non-serious users. Winks (free) and messages (paid) are the two ways to contact other members.
Security
Flirt monitors the activity on its platform and warns you when you are in touch with a user under observation, which is a welcome security feature.
Membership
Women used to have free access to all features of the website, but they rolled it back when scammers started taking advantage of it. Memberships are fairly competitive, starting at $27.30 per month. You can save over 50% by purchasing a 6-month membership for $12.27 per month.
We Like
60:40 women-to-men ratio
Quick sign-up
A large user base of 1 million+ members
Only admin-approved pics allowed
Telephonic profile verification
Location-based search
Anti-scam verification process in place for suspicious members
We Don't Like
Profiles lack detail
Messaging is restricted to paid members
5. Single and Shy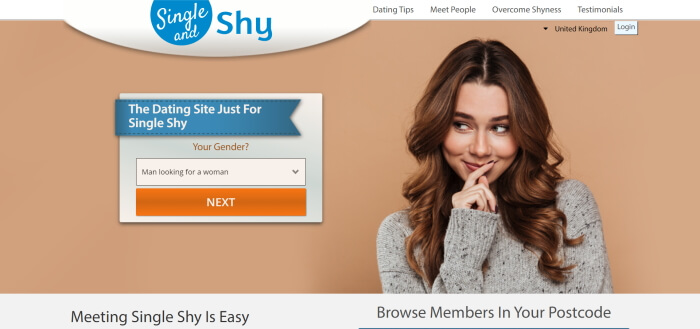 This is by far one of the most eye-catching, straightforward names we have come across among all the dating sites for introverts. It does a good job of bringing together people who are too shy to find other like-minded introverts in person. There are also some very useful resources for those who want to overcome their shyness. The downside is that the user base is quite limited.
Member base
In the 12th year of its operations, it might not have gigantic numbers in terms of the user base; however, its focus on shy singles has made it very popular amongst nerds and geeks who are not confident about approaching girls/guys in bars and asking for their phone numbers.
Registration
The website is easy to register for and is clutter-free. It is still evolving, and the location-specific search filter might not work perfectly. It does not ask for your sexuality while signing up, which can lead to some unpleasant experiences. It may not find too many fans within the LGBTQ community either and is focused on traditional dating conventions.
Membership
SingleAndShy.com is free to join, but although free membership is OK to test the waters, you will not accomplish much with it. Messaging is absolutely essential for introverts, and only the paid membership has this feature.
Monthly membership costs the standard $29.95, with the annual plan being the best bargain, bringing effective monthly subscription costs down to $11.97.
We Like
Good privacy features
Free registration
Focused on introverted users
The matching algorithm sends potential matches
Users can express interest by sending flirts for free
We Don't Like
Messaging feature available to paid members only
Limited user base
Traditional search (man searching for a woman or vice versa)
6. Introvert Dating Site
People with shy personalities looking for the best dating apps for introverts have another reason to cheer. IntrovertDatingSite.com is another website focused on those who are conservative and reserved by nature and are looking to find partners online. The site shares its database with some other sites, so you might end up connecting with the same people as you previously have on other introvert sites.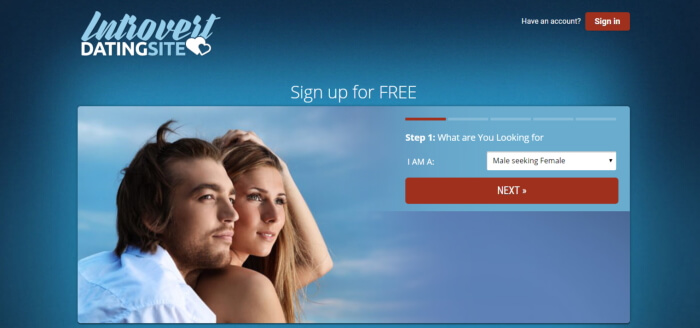 Registration
Launched in 2013, it is still gaining popularity and has a modern outlook, welcoming straight, gay, and lesbian people alike looking for romantic relationships. Signing up is relatively easy, as the registration form has just six mandatory fields. It has a responsive, clean interface and does not contain adult images upfront, which is a welcome change for people looking for long-term companionship.
Security
Once you post your images here, there is no way to shield them. There's also no incognito mode, so if privacy and anonymity are high on your priority list, be cautious with this site. However, there are no security concerns, as all your data (messages exchanged, payment information, etc.) is SSL encrypted.
It requires email verification, and all uploaded pictures are reviewed by moderators to keep out images that are not of real people.
Membership
The site lets you try out their 5–day membership plan at only $6.56, which renews automatically if you are not careful. There is a 1-month trial variant available at $45.96, which does not renew on its own.
However, a confusingly priced plan named After Trial Membership ($45.96 per month) renews automatically, as does Premium Subscription starting at $40.49 a month, $62.36 for three months, and $131.22 for a year. Canceling these after auto-renewal can be a pain, as you need to do it offline.
We Like
Easy signup
Priority Listing to promote your profile
Block annoying members
Group chat with all online users
Rich search filters
We Don't Like
No mobile app – a disappointment for users looking for dating apps for introverts
Limited member base
Part of a network of sites with shared databases
Dating for Introverts – Online Dating Tips for Shy guys
Be honest
Though not restricted to introverts, studies indicate that shy guys feel more inclined to hide some facets of their personalities. There is absolutely no pressure to project yourself as an outgoing person.
Be Specific
The excitement of getting a first date can be so overwhelming that you might end up writing vague details in your profile. This is a big turn-off and won't get you any matches, so spend some time filling out details about yourself.
Focus on Personality-Based Dating Apps
Given that you prefer solitude, there might not be a lot to talk about with others in terms of sports, politics, hobbies, etc. This is why you have to go for a website that does detailed personality assessments and then matches you with someone having similar traits.
Be Confident
As an introvert, you are usually uncomfortable when surrounded by people. An online dating website for introverts will have millions of people like you, which can put you off. But hey, you are not really in front of people, are you? You have no reason to be shy, as nobody is watching you!
Take Initiative
Asking a girl/guy out for a drink in person can be really unnerving, can't it? Online dating websites and apps give you the layer of protection you always wanted. Seize the opportunity and bring out your A-game! Maybe the first step of getting out of your comfort zone?
Read more dating tips for introverted men or dating tips for shy guys.
Frequently Asked Questions
💡 How To Deal With Dating As An Introvert?
Introverts can resort to online options to find dates. You can browse thousands of profiles without having to put yourself amongst people. On the other hand, hang out at pubs and cafes with your friends and try initiating a conversation – a simple 'Hi' is all it takes!
💡 How To Get A Girlfriend As An Introvert When Dating Sites Don't Work?
Introverts are known to be intelligent and witty. Use your wit to come up with catchy pick-up phrases. Girls are attracted to guys with intelligence, which works in favor of introverts.
💡 How To Describe Yourself On A Dating Site If You're An Introvert?
Be honest about yourself and use interesting phrases to state who you are and what you are looking for in your partner.
Wrapping Up
Getting into the dating game as an introvert might seem scary and difficult, but technology has made it super easy to connect with other introverts and people with similarly shy personalities. I hope the online dating sites and apps for introverts I reviewed above will help you in your attempt to find long-lasting love. Don't let dating anxiety hold you back – sign up on one of these dating sites and start exploring today!
Maybe you are not too sure whether online dating is right for you. Don't worry there are plenty of options where introverts can find partners.