XMatch.com is a well-known casual dating and sex site that has been in existence since 1996. It shares the same network as AdultFriendFinder.com and has a huge member base.
Meant for those who are seeking either a hookup with someone who shares their kinks or who wants to share their sexually-themed videos online, XMatch is a great option if you are looking to have your sexual desires fulfilled.
If you're wondering what XMatch is like and how it compares to other casual online dating services, read my XMatch review.
Overview and Statistics of XMatch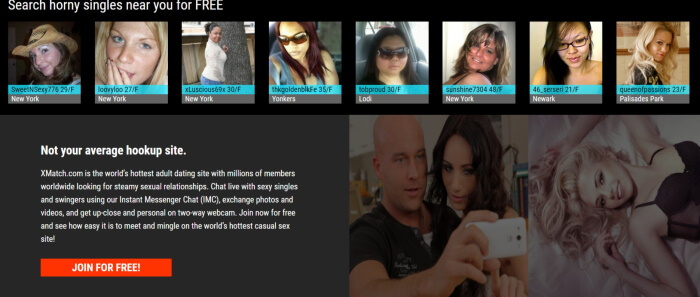 XMatch has a massive number of members because it shares the same user base and developers as all the online dating sites in the Friend Finder Network. It currently boasts 96 million members across the world, half of whom are from the United States.
The vast majority of users are between the ages of 24 to 35, and roughly 75% are men. The remaining users are either female or members logged in as couples.
The site is available for anyone of any sexual orientation, with 'straight,' 'bisexual,' 'bi-curious,' and 'gay' being listed as the main options.
XMatch is literally designed to get you set up with whichever sexual encounter you are looking for and does not discriminate based on gender, members' sexual preferences, or the type of relationship you're after.
The Registration Process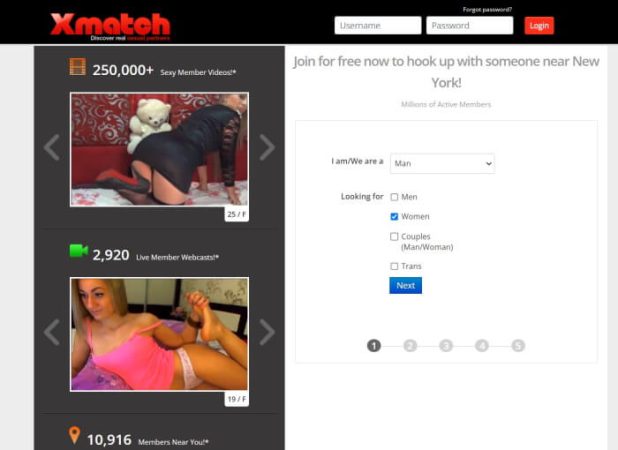 There is a five-step process for registering an XMatch account:
To start, you need to select your gender and which gender you prefer to have an encounter with.
Your options are:
You can choose one, two, or all three of them if you so desire.
The next step is to fill in your date of birth and current location via your zip code. You then need to select a password and username and enter a valid email address. An activation link will be sent to this address, and you need to confirm it before you can proceed.
Once you have verified your identity, you can then fill out the rest of the personal information relating to dating and relationships. This includes your sexual orientation, body type, marital status, race, and so on.
In the 'More About You' section, you'll need to choose an introduction title as your profile's headline.
In The 'About Me' paragraph, which is optional, you can then write something witty about yourself and go into more detail about what you are looking for. If you aren't sure where to start, you can use the instant template and writing ideas provided by the site.
Once you are registered, and your profile is set up, you can begin dating online and searching for other users in your area. You can filter profiles by using the advanced search feature, send instant messages and winks to people you like, see who is online, and add members to your favorites list, among other features that we will cover later.
Profile/Photo Details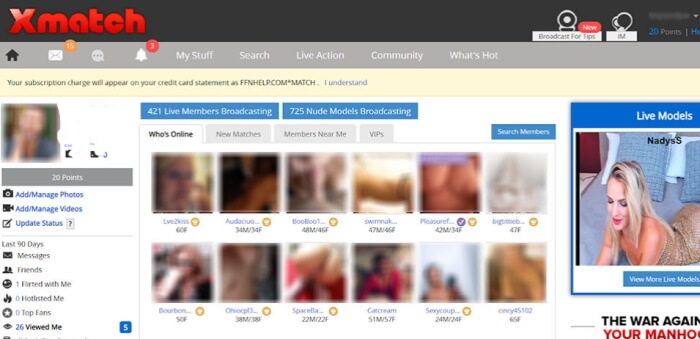 When it comes to viewing profiles, XMatch users with free membership can only see a partial summary of the profile that includes the users':
Age
Username
Location via their zip code
Whether they are verified or a Gold member
Sexual orientation
Brief bio
Free members can also:
Add profiles to their hotlist
Send winks
Participate in adult-themed chat rooms
Broadcast their own shows
Play the Hot or Not game (vote whether you find a particular member hot or not)
By becoming a Gold member of XMatch, you can view the full profiles of users you're interested in.
There are five tabs in the full profile version. The first tab displays the summary of profile information as listed above, which free members can access too. The other four tabs can only be accessed by paid members.
The information in these tabs includes:
Photos and videos the user has uploaded
Their answers to XMatch's profile questionnaires
Their personal links
Friends network
XMatch Sex Academy courses they've taken
Articles posted on their XMatch blog
Compatibility chart to see if they are a good match
Ease of Use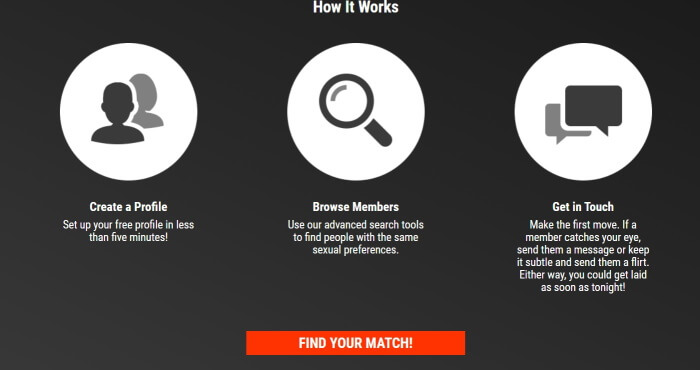 Once your registration is complete and your profile set up, you can officially begin your XMatch adventure. Take note that the website is definitely not safe for work, and female/male nudity is present on almost every page.
The first thing you'll see on XMatch after registration is an offer to upgrade to a paid membership. While you can access the website for free, most useful features are reserved for paying members only (more on the membership options later).
You can then see the selection of members who are local to your area, and you can narrow down your search further by your personal preferences.
There are also several features that truly show how XMatch is an adult dating website like Heated Affairs that you can access so long as you have a paid plan. One example is the Live Cam section, which includes Live Model Cams and the ability to participate in video chats with broadcasters and other live members.
The Live Model Webcams, together with broadcasters, allow you to direct what you want them to do on screen. The Live Member Webcams let you have direct one-on-one conversations with other members.
The Connexion feature allows you to connect a sex toy to your computer to sync in real-time with a live model or member, thus enabling you to feel one another's movements.
Finally, there is also a Sex Academy section, which is essentially a blog that offers courses and information on sexual education. You'll likely learn at least a thing or two on here, so it's worth checking out.
Ways to Contact Members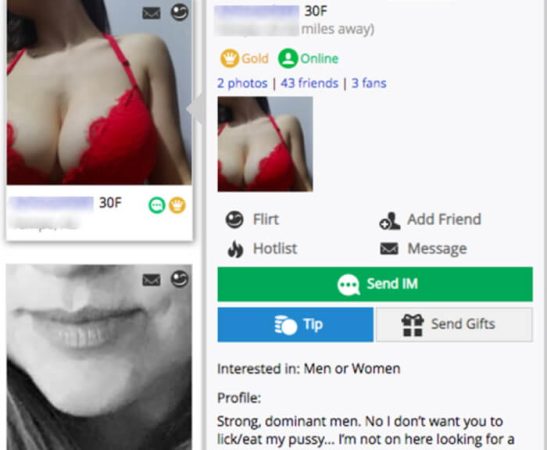 Using the advanced search feature, you can connect with people in your area.
You can filter down your results further by:
Race
Gender
Sexual orientation
Favorite kinks
Appearance
Breast size
Male endowment, and so on
There is a matching system on XMatch, but it is based on the initial preferences you set and, therefore, rather vague. The site is designed to get you as many matches as possible, but the tradeoff is you may not be compatible with all of them.
The closest things there are to a more specific matching system are the compatibility charts and profile kink questionnaires that are displayed on profile pages. The questionnaires enable the users to rate their interest in different kinks on a scale from mild to extreme. The compatibility charts provide you with a score to see how compatible you are with other members.
The chat rooms and video chatting features we discussed above are definitely a step up from one-on-one messaging. Most of these adult chatrooms have at least a few hundred live members who are online daily, and you can directly message or call the members in these rooms as well.
Free members will be able to host a show for free, and you can earn points when other members watch your show. If you're lucky, you may even be able to match with someone on the video chat in your area.
Security and Customer Service
XMatch is secured by GoDaddy and is therefore verified by them as well. According to the privacy policy of the site, firewalls and other 'industry-standard efforts' are used to help protect your data.
A major concern when it comes to dating apps and adult hookup sites is that you have to provide a fair amount of personal information.
Fortunately, XMatch has never been the victim of a data breach, and there is no known instance of the company misusing customer data. Nonetheless, as with any online dating site, be careful about the kind of information you decide to submit.
Also, remember that not all members of XMatch are real, and fake profiles/accounts and bots do exist. The site clearly states that not all profiles are run by the members of those profiles.
Also, the customer support of XMatch is lacking and in dire need of improvement. The company offers nothing in this department except for an FAQ page.
Cost of Membership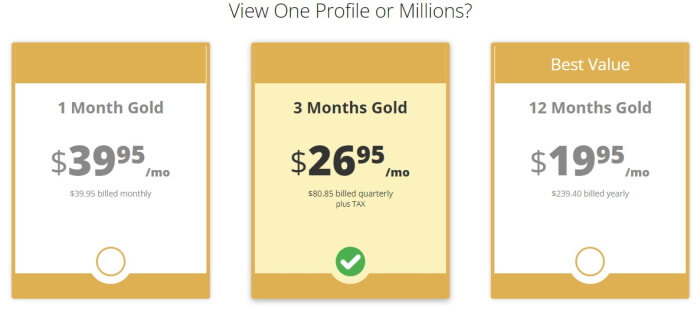 XMatch encourages you to purchase a paid membership plan almost as soon as you have confirmed your account. You can decline their offer, but if you are serious about using the site, you are better off with a premium account.
The Gold membership plan is available for $39.95 for one month, $26.95 per month for a three-month subscription, or $19.95 per month if you pay annually. This plan will enable you to view profiles, pictures, and videos of members, contact them, check out the Sex Academy blog, and the other features we discussed previously.
An alternative to Gold membership is the credit system which also has different packages available. Costs range from $0.01 to $0.02 per credit. The credit system is a good option if you want to take a look at the site before committing to a full membership plan.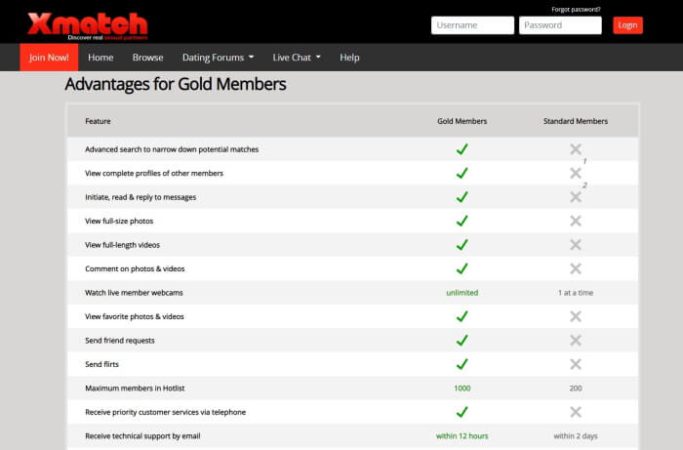 Sites Like XMatch
There are several alternatives to XMatch that are adult dating and hookup websites as well: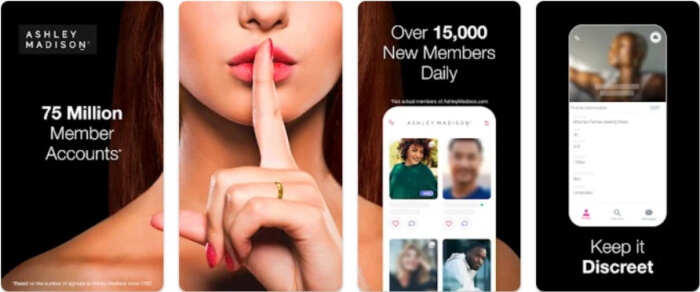 AdultFriendFinder is one of the largest and most well-known casual internet dating sites in the world and the main Ashley Madison alternative. The platform is targeted at singles and couples looking for casual hookups to add spice to their sex life. It offers several different contacting features to find the right partner(s).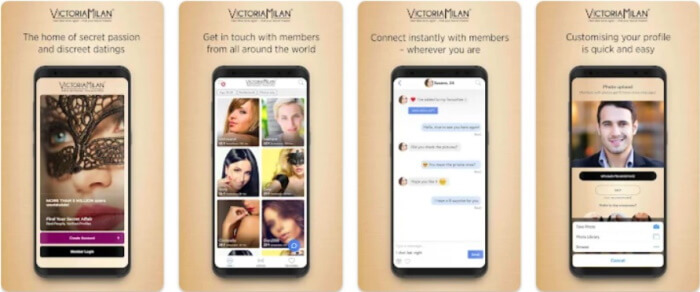 Victoria Milan is meant for members who are looking to skip the traditional dating scene and get right into the bedroom. This adult dating site markets itself as being a very simple and efficient way to facilitate everything from casual hookups to threesomes to virtually any other kind of adventurous sexual encounter you can think of. It is a great site for having sex with married women.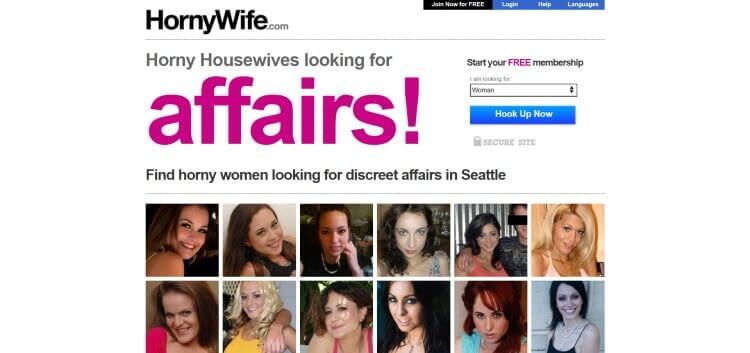 HornyWife.com is targeted at married individuals who are looking for an affair, although it also attracts singles looking for a hookup as well. The site is among the most explicit in the cougar hookup scene and is known for its profiles that feature photos or videos of members fully nude or even sometimes engaged in sexual acts.
XMatch Reviews: What Others Say About It
With its huge member base and unique features, XMatch.com is certainly one of the better sites out there offering all kinds of sex.

AskMen.com
Overall, XMatch is a reliable platform if you want to find a casual encounter near you. Millions of XMatch members are open and are game for kinks and satisfying each other's sexual fantasies.

DatingSout.com
Wrapping Up
I hope you found my XMatch review useful and that it will help you decide whether this site is right for you!
Frequently Asked Questions
💡 What Is XMatch?
XMatch is an adult dating and hookup site designed for people who are looking for casual fun in their area. The site offers a variety of features that help narrow down your search and find the right people and the right types of sexual encounters.
💡 Is XMatch Legit?
Yes, XMatch is legitimate with real profiles, but bots and fake accounts do exist on the website as well.
💡 Is XMatch Really Free?
It is free to set up an account and profile on the XMatch dating website. It's also free to browse profiles of other members, broadcast your shows, participate in group chats, send winks, and add other members to your hotlist.
You need to pay for membership or purchase credits to have unlimited access to premium features such as viewing photos and videos, sending instant messages, video chatting, seeing compatibility charts, and viewing answers to XMatch's questionnaires.
💡 How to Know if a Member is Fake?
While there are plenty of real profiles on XMatch.com, there are also several bots and some fake accounts as well.
If a member has poor grammar, responds to your messages very quickly repeatedly, or offers an answer that doesn't make sense to an out-of-context question that you ask, chances are very high you are talking to a bot.
Recognizing fake profiles is a little bit more complicated, but generally, if someone starts asking too many personal questions too soon, refuses to have video calls or send freshly taken photographs, or steers the conversation to money, you might be talking to someone whose intentions are not sincere.