Did you know that Mexico is home to over 130 million people? That's a whole lot of potential love connections! If you're looking to date in Mexico, you're in the right place. Picking the right dating site can make all the difference between finding your perfect match or wasting your time swiping left. Trust me, I've got some golden nuggets to share with you about the top online dating sites in Mexico.
Last year, I spent three amazing months in Mexico City. I learned a lot about the dating scene there, and I even tried out some of these platforms myself. So, you can count on me to give you the real scoop.
By the end of this article, you'll know exactly which dating site is the best fit for you. No more guesswork, just a clear path to meeting Mexican singles who are just as excited to meet you.
So, what are you waiting for? Keep reading to find your perfect match in the land of tacos, tequila, and endless romance.
How we reviewed the Mexican Dating Websites
Reviewing dating sites takes a lot of time and effort, which is why nobody does it thoroughly. However, it is the only way to find out if a particular dating site is worth it or not.
We have spent a lot of time and money testing different Mexican (and Latin online dating sites and apps in general) over the last few years, so you don't have to. We can now tell you which site you can trust and which is a scam.
Let me walk you through our review process.
Dating Inspector Review Process:
We signed up for both the free version and any paid versions of the popular dating apps and websites in Mexico.
We browsed the sites for several weeks.
We communicated with many Mexican women using all the messaging features.
We set up dozens of dates with women and met up with them while traveling in Mexico.
We rated our experiences against all Mexican dating apps we reviewed.
We got in contact with other users to gather some relevant feedback.
All these actions led to the following list of 7 best Mexican dating sites to try:
Chispa
Bumble
1# MexicanCupid – The Best Mexican Dating Site
MexicanCupid is a dating platform aimed at Mexicans and Westerners looking for their perfect match. The site has been around for a while and has garnered a membership of around 350,000 people. While the site promotes dating, a lot of its members are actually looking for serious, long-term relationships. The gender distribution is 40% women and 60% men, mostly from the United States and Mexico.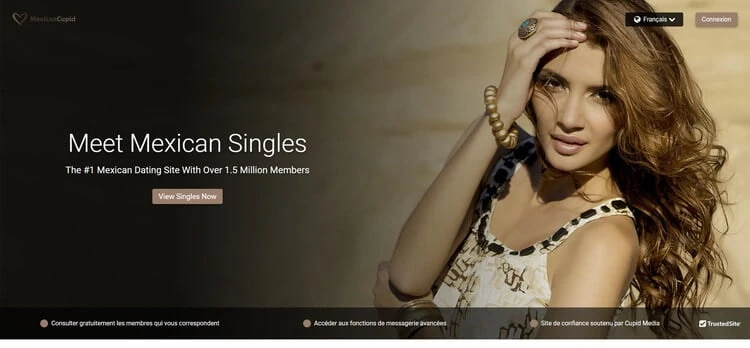 Features: Robust Search Functions
The site offers a variety of ways to connect with potential matches. You can use search filters to narrow down your options, and you even get instant matches right after signing up. The search criteria can be customized, allowing you to find people who meet your specific needs.
Quality of Profiles
Profiles on MexicanCupid are quite detailed, offering a lot of information about the individual. You can upload up to 5 photos as a standard member. The site also allows you to verify your profile by uploading a document or ID, which then gives you a green badge, indicating that you're a genuine user.
Membership Levels: Standard, Gold, and Platinum
Standard: Free profile creation, limited messaging with premium members, and basic search features.
Gold: Costs start at $11.25 per week. Allows you to send messages to all members and read received messages.
Platinum: Starts at $20 per week. Offers exclusive search features and message translation.
Security and Support
MexicanCupid takes security seriously. Moderators actively suspend fake profiles. Customer support is responsive to complaints. However, it's worth noting that in 2013, Cupid Media, the company that owns MexicanCupid, had a security breach that leaked 42 million passwords.
Pros and Cons
Pros
Detailed profiles
Robust search features
Responsive customer support
Profile verification
Cons
Some fake profiles and scammers
Only Android app available
Language translation sometimes slow
My Verdict
I've found that having a premium membership, especially the Platinum level, can be really beneficial. It opens up a lot more opportunities for connection, including message translation, which can be super helpful if you're interested in dating someone who doesn't speak your language. The detailed profiles also make it easier to find a match who is compatible with you on multiple levels.
So, if you're looking for a serious relationship with a Mexican single, MexicanCupid could be a good place to start. Just be cautious, use the site's features to your advantage, and consider going premium for a better experience.
2# LatamDate – A Latin Dating Site Very Popular Among Mexican Women
LatamDate is a global dating website focused on connecting men with women from Latin America and the Caribbean. It's part of the Qpid Network and has been around for a while. The site aims to facilitate serious relationships, and casual chats or hookups. It is very popular among sexy Mexican women in Mexico City.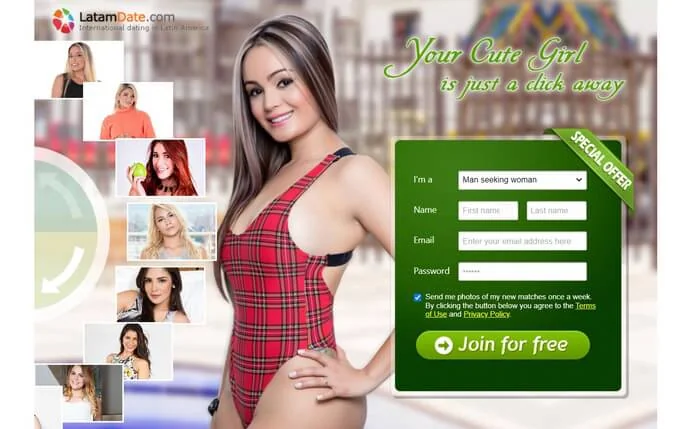 Features: Robust Search Functions
The site offers various search tools to help you find your perfect match. You can use basic and extended search options to filter profiles based on different criteria like age, nationality, and more. The site also offers "smart matches," which suggests profiles based on your preferences.
Quality of Profiles
The profiles on LatamDate are not super detailed but are verified by the site's administration. Most women provide at least 5 quality photos and basic information like marital status, education, and religion. The site also verifies women's profiles by checking their IDs and official requests, adding an extra layer of security.
Membership Levels and Prices
LatamDate offers both free and paid features. Free members can use search functions, look through profiles, and initiate conversations by saying "Hi." For more advanced features like sending emails, making video calls, and real-time chatting, you'll need to upgrade to a premium membership. The site operates on a credit system, and the more credits you buy at once, the cheaper each credit becomes. Prices start from $3.99 for a special one-time offer of 2 credits.
Security and Support
The site is secured by GoDaddy and McAfee, and it also collaborates with big companies like MasterCard and Visa for payment processing. If you notice any suspicious activity, you can contact their support team. The site also provides online dating safety tips to help you protect your personal data.
Pros and Cons
Pros:
Niche dating site focused on Latin women
A large number of active members
Variety of free and paid features
Official app available on Google Play
Cons:
Fewer women compared to men
Some of the best features are expensive
Verdict
LatamDate is a solid choice for those looking for serious relationships with Latin women. It offers a range of features to make your online dating experience rich and fulfilling. However, if you're just looking to chat or make friends, this might not be the best platform for you due to its focus on serious relationships and the cost associated with its premium features.
So, if you're serious about finding a Mexican girlfriend or even a bride, LatamDate is worth giving a try.
3# AmoLatina – Connecting Singles With Mexicans
AmoLatina.com is a dating site that's been around for more than 20 years. Started in 1993 by a Russian-American couple, the site aims to connect Latin singles from all over the world. While the majority of its members are from Latin American countries like Mexico, Brazil, Colombia, Peru, Venezuela, and Ecuador, it also has members from the United States, Europe, Australia, Canada, and even Japan. The site's name translates to "I Love Latina," and it's designed to help people find serious, long-term relationships, although you can also find folks interested in casual hook-ups and friendships.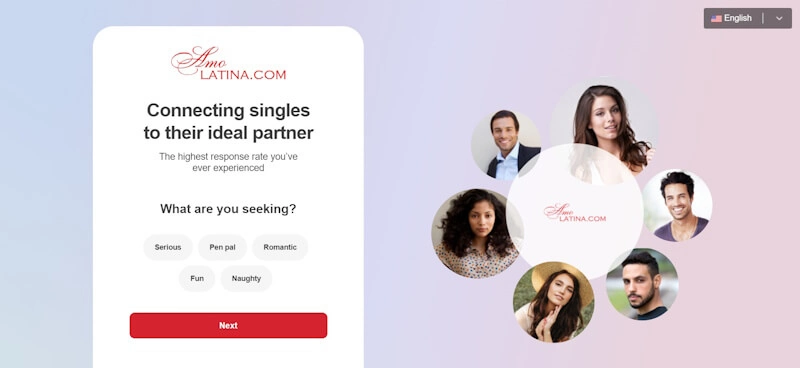 Features
AmoLatina offers a variety of tools to help singles connect. The most popular feature is the "Video Chat," which allows real-time communication with video. There's also "Online Chat," similar to video chat but without the video. You can send emails, photos, or videos, and even use stickers and smiles to communicate.
Unique features include "Send a Present," where you can send gifts to your special someone through the site. "Let's Mingle" allows you to send a default message to a group of potential matches based on age or other criteria. The "Boost" feature increases the visibility of your profile, making it easier to catch attention.
Quality of Profiles
The site is known for having high-quality profiles. They carefully select Latin singles who are serious about finding love online. Members are encouraged to upload high-quality or professionally taken photos. The Customer Service Team reviews profiles to ensure they meet the site's criteria before going live.
Membership Levels and Prices
Signing up is free, but to use Premium tools, you'll need to purchase credits. The site offers different packages to fit any budget. For example the Welcome Package costs $9.99 and includes 20 credits, 10 FREE chats, 10 FREE emails, and FREE introductory messages. Other credit packages range from $15.99 for 20 credits to $399 for 1000 credits.
Security and Support
Safety is a top priority for AmoLatina. They have a strict Anti-Scam policy enforced by their Customer Care Team. A separate safety team monitors the site for suspicious activity. Members are encouraged to report any suspicious behavior for further investigation.
Pros and Cons
Pros:
Long history and large, diverse member base
Variety of communication tools
High-quality profiles
Flexible membership options
Cons:
Some profiles may slip through the safety checks
Premium features require purchasing credits
My Verdict: A Solid Option for Mexican Dating
AmoLatina is a great option if you're interested in Mexican dating. With its long history, diverse member base, and variety of communication tools, it offers a rich platform for finding a meaningful relationship. The site takes security seriously, and while you may need to invest in credits to get the most out of it, the investment is well worth it for the quality of matches and services you receive.
So, if you're looking to connect with Latin singles, especially those from Mexico, AmoLatina.com is definitely worth checking out!
4# Amigos.com – The Site For Hooking Up in Mexico
Amigos.com is an international dating site that focuses on helping Latino people find love. It's part of the well-known FriendFinder network, which means it's got some solid backing. The site aims to be a stimulating platform for Hispanic singles to date, find friends, and express themselves. You can even manage your own blog or start a group around your favorite pop culture topic. The site is available in Spanish, English, and Portuguese, making it accessible to a broad audience.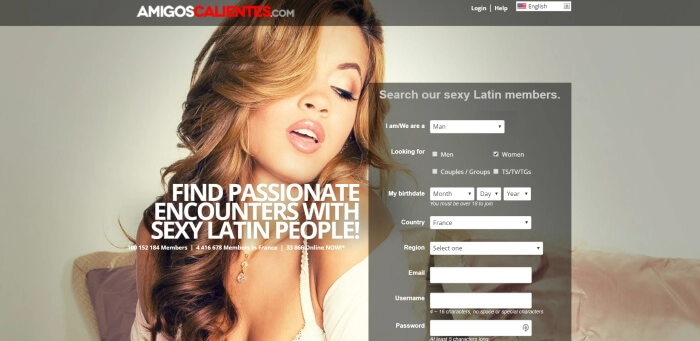 Features
Getting Started: The registration process is straightforward. You can choose your ethnicity, body type, and other personal details from a dropdown list.
Matching System: Amigos.com uses a complex algorithm to recommend matching partners based on your preferences.
Communication: You can send emails, which are the backbone of your communication options.
Limitations
Limited Access: Free members can't really do much. You can't even check out other people's profiles or enlarge their pictures.
Communication Barriers: All advanced communication features like live chat are only available for Gold members.
Quality of Profiles
The site encourages you to upload a nice picture and complete an optional essay to attract more people to your profile. You can also answer personality questions and upload an introductory video to make your profile more appealing.
Membership Levels and Prices
Silver Plan
Cost: $9.99 for one month or $8.95 per month for a quarterly plan.
Features: Limited actions like contacting newer members and watching video entries.
Gold Plan
Cost: $19.99 per month or $8.95 per month for a quarterly plan.
Features: Unrestricted communication and all available features.
Security and Support
The site directs you to a well-detailed FAQ section for most queries. However, it lacks a clear method for other problems. You can contact them over the phone for billing support or report abuse via email.
Pros and Cons
Pros
Instant messenger feature
Blog and group sections
International presence
Cons
Restricted free account
Needs some extra features
Expensive
My Verdict
Given its focus on Latino singles and its various features, Amigos.com could be a good platform for casual dating in Mexico. However, to really take advantage of the site, you'll need to go for a premium subscription.
So, if you're looking for love or just a casual date and you're interested in the Latino community, Amigos.com might be worth a try. Just be prepared to shell out some cash to get the full experience.
5# LatinBeautyDate – Small Yet Growing on The Mexican Dating Scene
LatinBeautyDate is another great Latin dating site. The platform is designed for those looking for serious relationships, but it's also open to people seeking fun companionship. With an average member age of 25-34 and around 5,000 members, it's a tiny hotspot for those interested in Latin dating.
Discuss Features
The site offers multiple ways to communicate with Latin singles. You can send instant messages, emails, make audio calls, and even video calls. The platform also offers advanced search filters to help you find your perfect match. You can earn 15 to 60 bonus points based on how complete your profile is, which is a nice touch.
Quality of Profiles
The profiles on LatinBeautyDate are generally high-quality and verified. The site works hard to keep fake profiles out, ensuring that you're talking to real people. In a test, 88 messages were sent, and 79 replies were received, showing that the women on the site are active and responsive.
Membership Levels and Prices
The site has a variety of price packages to suit different needs. While the basic features are free, most of the main communication features are paid. The starting price for membership is $3.99, which is quite affordable.
Security and Support
LatinBeautyDate takes security seriously. They have a profile check system in place to keep fake profiles at bay. Payment options include Credit Card and PayPal, both of which are secure methods.
Pros and Cons
Pros:
Focused on long-term relationships
Multiple communication channels
Large selection of Latin American girls
Video call feature
Cons:
Main communication features are paid
Only Latin American girls available
Outdated design
My Verdict
LatinBeautyDate is a fantastic platform for anyone looking to socialize and connect with Mexican and other Latin American singles. Whether you're looking for a serious relationship or just want to have fun, this site offers a variety of features to help you meet the right person. The focus on verified profiles and secure payment options makes it a reliable choice for online dating.
6# Chispa – The Go-To Dating App for Latin Singles
Chispa is a dating app specifically designed for Latino men and women looking for their perfect matches. The app is relatively new but has already gained a lot of attention for its exciting and interesting features. It aims to build an exclusive platform for Latino singles to find genuine connections. The app is available in both English and Spanish, making it a bilingual platform.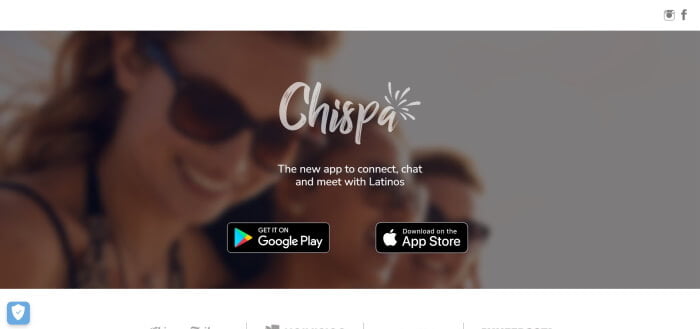 Features
Chispa uses a swipe mechanism, much like Tinder. Swipe right if you're interested and left if you're not. The app uses your location to suggest potential matches nearby. It also has some in-app games and activities to keep things fun. You can set up your profile quickly, upload photos, and share your interests to give potential matches a glimpse into your personality.
Quality of Profiles
The profiles on Chispa are mostly visual, with a 90% focus on photos and 10% on information. Users are encouraged to upload up to six photos and a clear headshot to increase their chances of being matched. While the app does its best to filter out fake profiles, some users have reported encountering suspicious accounts.
Membership Levels and Prices
Chispa offers both free and premium services. Free services include profile creation, swiping through profiles, and chatting with matched profiles. The premium features offer more visibility and higher chances of being matched. Pricing starts at $0.49 per month, and there are various plans to choose from.
Security and Support
Chispa takes security seriously. Accounts are verified via mobile numbers, and suspicious signups and logins are immediately terminated. The app also allows you to report concerns anonymously. If you forget your passphrase, you can email their customer service for assistance.
Pros and Cons
Pros:
Tailored for Latino singles
Bilingual (English and Spanish)
User-friendly swipe mechanism
Free messaging for matched profiles
Cons:
Limited availability in some countries
Some features may still be buggy
Reports of fake profiles
My Verdict
Chispa is a solid choice for singles looking to connect with the Latin singles community. Its bilingual platform also makes it a great place to brush up on your Spanish. While it has some limitations, such as availability in certain countries, the pros outweigh the cons. If you're looking for a culturally inclusive space to find genuine connections, Chispa is worth a try.
So, if you're a Mexican single looking for love or just a good time, Chispa could be your go-to app. Give it a swipe and see where it takes you!
7# Bumble – The Dating App Where Mexican Women Make the First Move
Bumble is a popular dating app founded in 2014 by an ex-Tinder employee. With over 100 million users, it's a platform where women make the first move. This unique feature sets it apart from other dating apps like Tinder. The app is designed to provide a safer online dating experience, especially for women.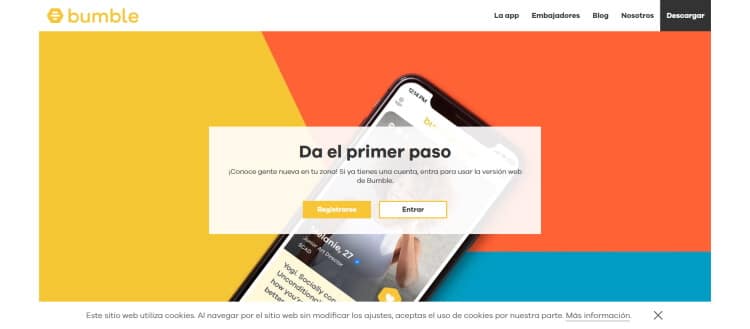 Features
Advanced Filters: Bumble offers a variety of advanced filter options, but only for premium members. Free users can filter by age, location, gender, and language.
Spotlight: This feature boosts your profile for 30 minutes, making you more visible to potential matches.
Super Swipes: For a small fee, you can Super Swipe someone to show you're really interested in them.
Incognito Mode: Available only for premium users, this feature hides your profile from everyone except those you've swiped right on.
Profile Badges: These are keywords you can add to your profile to let people know more about you.
Bumble BFF: This is a version of Bumble designed for finding friends and platonic relationships.
Video Chat: Once you've matched and started a conversation, you can initiate a video chat.
Beeline: A premium feature that shows you a list of users who've swiped right on you.
Question Game: A fun ice-breaker game you can play with your matches.
Quality of Profiles
The quality of profiles on Bumble is generally high. The app has a mandatory account verification process that helps weed out fake profiles.
Membership Levels and Prices
Bumble offers a Premium plan that can be purchased weekly, monthly, or as a lifetime subscription. Prices range from $14.99 to $24.05 per month. The premium plan includes advanced filters, unlimited access to your Beeline, the ability to extend matches beyond 24 hours, and more.
Security and Support
Bumble places a high emphasis on security. It has an automated verification process to keep bots and fake profiles at bay.
Pros and Cons
Pros
Over 100 million users
Women make the first move
Limited fake profiles due to mandatory verification
Available on both web and mobile
Cons
Limited search filters for free accounts
Chats expire after 24 hours if no messages are exchanged
Men can't send the first message
My Verdict
Bumble is a game-changer in the online dating scene. By allowing women to make the first move, it provides a safer and more empowering platform for them. Whether you're a guy or a girl, Bumble offers a high-quality, respectful dating experience that I highly recommend.
Ready To Date Mexican Singles?
Wow, what a ride! We've just gone through the 7 best Mexican dating sites and apps to help you connect with Mexican singles. Whether you're into long-term relationships or just some fun, there's something here for everyone.
Remember:
Always be genuine and respectful in your interactions.
Use quality photos and be open about what you're looking for.
Stay safe online by keeping personal info private and meeting in public places for the first date.
I've tried these platforms and had some amazing experiences, so I'm confident you'll find the right fit too. Now, what are you waiting for? Dive in and start meeting new people today!
Happy dating, amigos!
What is the Best Mexican Dating Site?
The best Mexican dating site is MexicanCupid. It's popular in Mexico and among people interested in dating Mexicans. This site has many members, a user-friendly interface, and robust security features. It's the go-to app for meaningful connections with Mexican singles.
Is There a Mexican Dating Site?
Yes, there are several Mexican dating sites available. MexicanCupid, Amigos.com, and Chispa are some popular options. These sites cater specifically to those looking to date people of Mexican descent.
What Dating App Does Mexico Use?
In Mexico, the most commonly used dating app is MexicanCupid, followed by Bumble and Tinder. These apps offer a mix of local and international profiles, making it easy to connect with singles in Mexico.
How to Meet Mexicans Online?
To meet Mexicans online, try using popular dating sites like MexicanCupid or apps like Tinder and Bumble. Create a profile, upload good photos, and use search filters to find matches. Be respectful and genuine to make a good impression.